Features:

6

Sound:

6

Action, Fit & Finish:

10

Reliability & Durability:

10

Overall Impression:

8

Reviewer's score:

8

Superb

Users' score:

9

(

3 votes

)
Price paid: C$ 200
Purchased from: Private
Features — 6

Year: Unknown.
Country of Origin: These guitars are made in Canada in Montreal.
Body & Neck Woods: This guitar comes with a Maple core, poplar wings, birds eye maple neck with rosewood fretboard.
Finish: It has a very thick poly finish.
Body Style: It has a strat style body without the belly cut.
Bridge: Hard tail bridge.
Electronics: It has active electronics in it.
Controls: Only has one volume knob.
Pickup Configuration: This guitar has an EMG 81 in bridge position.
Tuners: Godin non-locking tuners.
Accessories: The guitar didn't come with anything as I bought the guitar used off of Kijiji.
Sound — 6
It suits my music style really well as I play mostly metal. The EMG 81 really cuts giving you a tight low end and razor sharp highs. There's absolutely no flub when playing. The guitar has a very neutral and uninspiring acoustic sound from the maple core and poplar wings, also attributed to the bridge. Coupled with an EMG 81 that lacks in the bass department - it can sound very thin however raising the bass side of the pickup and noodling around with the amps gives great results. As far as distortion sounds, this guitar can stand shoulder to shoulder with the best guitars both live and in studio.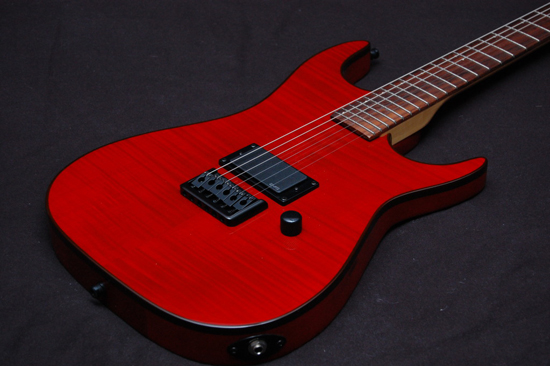 Overall, I'd say it has a bright sound and I'm running it through VSTs and cab impulses. The guitar is pretty much a one trick pony. You're getting the guitar not to play country but to blow peoples faces off with your shredding skills. It's got 0 variety and dialing back the single volume knob doesn't do much too much other than taking you out of distortion territory while remaining very cold. That being said, some reverb & chorus can help and the pickup is surprisingly dynamic if you back off the volume almost to none. If it had a tone knob it would have probably helped a lot with the variety of sounds that can come out of it.

Action, Fit & Finish — 10
This is where the guitar really shines. The frets are immaculate and I got the action to stupid low levels where I had to raise them because I was pretty much hammering on and pulling off everything. Polished medium jumbo frets lead to smooth full step bends and beyond. It's also easy running your hand across the frets. Also unlike my other budget guitars (Ibanez, Epiphone, Squier, Jackson) you can grind the frets as hard as you want - you won't see any shavings! My frets still look brand new after a lot of abuse in the same areas while other entry level guitars show deep fret wear after a few months :(

It's just a joy to play. Also having a 24 fret guitar is uncommon with a 24 3/4 scale length. This makes reaching various notes easy although gets very cramped near the dusty end of the neck and tapping becomes harder. The neck profile doesn't fit my hand too much. I prefer Jacksons and PRS but you adapt to it. Feels like a chunkier and wider strat neck. The only complaint that I have is that it doesn't have a compound radius so chords can feel uncomfortable. The finish is a very uninspiring poly finish. Tuners work very well even if you're doing crazy Zakk Wylde or Dimebag Darrel bends but after a few songs you may be a few % off. The nut is also cut very well, a little high but better than low. The input jack is very sturdy.

Reliability & Durability — 10
I left this guitar in my car on a hot summer day for 5 hours and the thing didn't even change tuning. I've also on another occasion(s) left it in my car during the winter for a day or two I can't remember and it came out just fine (I know i'm a bad person). This guitar will last me many years as my main guitar and I have no fears about the quality of it. I expect to get 10 years out of it minimum. The hardware is rock solid and hard to mess up. The strap buttons are solid and I can take this guitar from Mexico to the North Pole and back without qualms. Absolutely I'd use it without a backup. The finish will easily last as it feels pretty thick. The finish on the neck is also very nice.

Overall Impression — 8
Overall - this is a no frills guitar that plays like a very expensive one. The bare bones approach is off putting at first but really forces you to perfect your playing, technique and touch which in the end means so much more than your pickups, appearance and tonewood and this guitar nails it on the head. What point is a good sounding guitar if it plays like garbage and you can't work with it? I paid $200 CDN for it used while with other guitars in that price range would be a low end squier while shredding better than most guitars five times it's price tag. As a result, I've absolutely fallen in love with it despite its very basic appearance and lack of tonal options. I'm looking to grab a few more and modify them with different pickups. These guitars are best you can get for the money and I highly recommend them to beginners and veterans alike.