Features:

8

Sound:

9

Action, Fit & Finish:

9

Reliability & Durability:

8

Overall Impression:

10

Reviewer's score:

8.8

Superb

Users' score:

9.3

(

4 votes

)
Price paid: £ 375
Purchased from: Wunjo Guitars, Denmark St, London, UK
Features — 8
Brand new Gretsch G2622. Manufactured in Indonesia in 2015. Features 1 tone control and front and rear humbucker volume controls and 1 master volume control. This is a semi-acoustic with f holes and it has a scratch plate with the authentic Gretsch logo on it. The bridge is tune-o-matic and are styled in a beautiful V shape. The finish is very polished and shiny and the fret board is a nice pearl inlay. The neck also features 22 frets. The tuners hold their tune really well and considering the fact that I bend strings and frequently change my capo position around, there is little evidence of the strings going out of tune quickly.
Sound — 9
I am an intermediate player but tend towards the rhythm style of playing. The neck has generous jumbo frets and makes my style of playing a cinch as it copes well with barre chords. The action is initially set fairly low, which also suits my solo efforts and bridging notes and blazing through scales becomes an easy task. The three settings give a wide range of tones that have a huge deal of warmth to them and it definitely suits '60s, rockabilly, indie sounds. The semi-acoustic body is great at giving rich tones which have also given my rendition of "Cherub Rock" a beautifully melodic tone.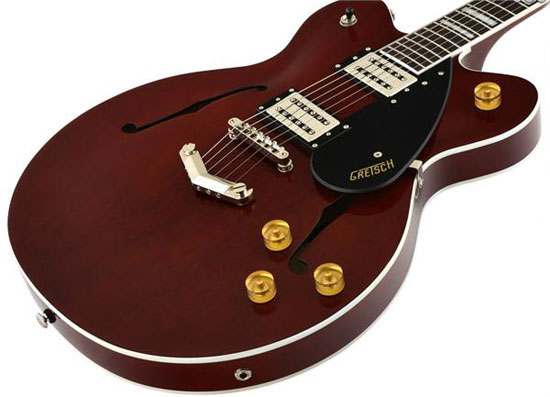 Action, Fit & Finish — 9
Compared to a much cheaper guitar, this feels like it should be even more expensive. There are few flaws with the set up and I took the guitar home fresh from the shop with no intonation set up needed. The finish on this guitar is one is expect from a more expensive brand. I still take a sharp intake of breath when I remove it from its case, as it looks stunning. The polished finished is flawless and the guitar is very well set up straight out of the box. I feel that the hardware is very durable and I have been hard pushed to find faults with this guitar. I think that the strings supplied, although though and strong, can be a little too tough for fingers more suited to low action and Super Slinkys.
Reliability & Durability — 8
The finish will probably last but I would recommend investing in wipes or cloths to ensure that the guitar stays free of dust. I would definitely gig with this guitar and I think people would definitely guess that this guitar was much more expensive than it really was. I played a gig to 50 people through a Fender Frontman 25 using a wah wah and also a Zoom multi-effects pedal. There were no concerns and I was told by many people that this gig had a lovely sound! This took the tone of the pedals with no issues. I really liked the fact that they sounded amazing even through small amplifiers.
Overall Impression — 10
I would definitely buy this again and even though my heart was set on a sunburst, I am really delighted I chose the walnut finish as it is beautiful. I think that this is an excellent accompaniment for my telecaster and the quality sounds that come out of this have the potential for retro rock 'n' roll all the way to show gazing indie music. This is a beautiful guitar and for the money this is a steal. I would have actually paid in excess of £500 for this! I would recommend this to someone looking for a very decent/intermediate but cheap guitar.