Features:

10

Sound:

10

Action, Fit & Finish:

10

Reliability & Durability:

10

Overall Impression:

9

Reviewer's score:

9.8

Superb

Users' score:

9.1

(

7 votes

)
Purchased from: Guitar Center
Features — 10
I'm delighted that I have the honor of being the first (and heretofore only) user to review the fabled Gretsch White Penguin on UltimateGuitar.com! For the uninitiated, the Gretsch White Penguin marries the gold and glittery looks from the White Falcon with the classic body shape and electronics from the Duo Jet. Mine is an older, slightly different configuration than the current iteration of the Penguin (the new models have Dynasonic pickups, hump fret inlays, and no Bigsby). It's got a chambered body, two FilterTron pickups, Grover Imperial-style tuning pegs, a Bigsby tremolo bar, and classy halfmoon inlays on the neck. It's not space-age by any means, with perhaps the only exception being the unconventional pair of 3-way toggle switches; one for selecting the pickup, the other for choosing a different tone profile. It came with a Gretsch hardshell case.

Simply put, you can do anything you want with this guitar. Does it have a fancy-pantsy automatic tuning system or a Floyd Rose locking tremolo? No. But you'll be hard pressed to find any guitar on the market today that A) plays better and B) looks better. Despite all the glitz and glamour, this guitar is built like a redwood. Magnificent to behold, transcendent to play.
Sound — 10
Is there a drinking game where you take a drink every time you see the words "Great/Famous/Classic Gretsch tone" in a Gretsch review? I'm going to do my best to avoid that phrase, because it doesn't actually tell you anything about the sound. Essentially, the FilterTron pickups produce a nice, buttery tone with a moderate bite to it. Some call it "twang," and it's definitely easy to achieve that sound, but that's not how I play. I play a lot of psychedelic/alternative rock (Radiohead), hard alt-rock (Smashing Pumpkins), and easy-listening/jazz (Norah Jones). This guitar handles any and every tone I want without any compromise. I can flick on the neck pickup, flick the tone knob to muffle the crispness of the tone (remember, the Penguin has two 3-way toggle switches), and play the warmest, smoothest jazz tunes you've ever heard. Conversely, if I switch to the bridge pickup and set the tone switch to neutral position to dry up the sound, I can rock my way through any angry song I want.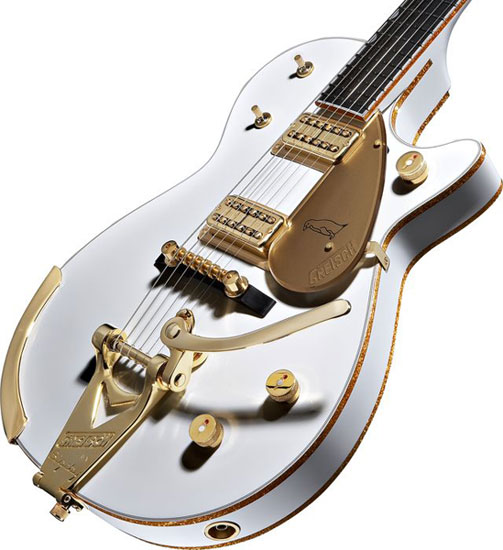 I run through a Fender Excelsior amp (rather jazzy flavor) with minimal effects, maybe a dash of delay on a nice bed of tiled-room reverb. It doesn't feel right to drown the Penguin's lovely voice in an ocean of effects and processing, but that's just me.

Essentially, if you think this guitar is only suited for country/blues, you are woefully misinformed. Of course, it doesn't help that 90% of the demo videos out there feature nothing but country fingerpicking and blues licks. Don't be fooled! This Penguin has wings, and deserves better than being relegated to tired old cowboys picking their way through yet another Chet Atkins tune.

Action, Fit & Finish — 10
Obviously, if you're going to shell out $2500 for a guitar with a rather standard configuration, you're going to be a stickler for quality. Despite my specific bird being over 5 years old when I got it, there was hardly any indication of wear on the finish. Frets are perfect, paint is brilliant and true, and all of the moving bits show no sign of slowing down. However, upon excruciatingly close inspection, I noticed light pitting in the gold, and a slight fading on the curious (but distinctive) banjo armrest that hugs the waist of the guitar. Still, it feels wrong to deduct points due to the inherent elemental properties, and these pieces can be easily replaced by factory parts. Furthermore, it's no secret that we all exude juices that can oxidize metal, and I'm not going to deduct simply because its previous owner didn't meticulously wipe down the guitar every time they put it up. Only weirdos do that.

Of course, if you buy the new models being produced currently, you can expect exactly zero issues. To reiterate, the flaws on my Penguin were due to it simply being a used guitar, not because of faulty/shoddy materials.

Reliability & Durability — 10
This guitar may look too handsome to do anything besides rest quietly in a glass case for passers-by to ogle, but believe me, this thing is built to last. This model has been owned for 5+ years, and shows no sign of giving out in any capacity. The Grover tuners are strong and reliable, and the screw-on strap caps haven't budged a millimeter. This guitar has weight to it, both literally and figuratively. Haven't yet gigged with it, but after a couple dozen rehearsals, the only thing that's showing wear is my shoulder.

The guitar has weight, remember? As in... the neck is kinda heavy.

Overall Impression — 9
The White Penguin is a wonderful, mesmerizing guitar. She will entice you with her looks and slay you with her tone. Regarding the guitar as a product, I have zero complaints. The Penguin has the unique ability to both handle any style of music with ease as well as having so much style that it could end wars. However, as we all know, nothing in this world is perfect, and I don't really trust perfect, all-10 reviews. My complaints, while few, are worth mentioning. For one, we all know what a Bigsby does to a guitar's intonation, and the Penguin is no different. (As an aside, you shouldn't be dive-bombing a Bigsby anyway, but I find myself avoiding completely it in order to maintain perfect intonation. Deduction!). The gold, while striking and beautiful, can pit and oxidize unless properly taken care of. Of course, this is a process that can take years, and it would be like complaining about the pores on a supermodel's face, but nevertheless... deduction! Finally, the price. The guitar is simply too expensive for what it is. Gretsch is not as price gouge-y as some other guitar companies out there *coughGibsoncough*, and confusingly, are they produce some of the best valued guitars on the market. But the Penguin retails for $3100+ brand new. It's no longer a collector's item, and, to be frank, it's honestly just a plain ol' guitar with two FilterTrons, three knobs, and some gold trim. It's amazing to look at and you will never be disappointed by its quality, tone, and impact on your audience, but it's still excessively expensive.

All that being said, the White Penguin is a timeless, gorgeous instrument that will turn the heads of entire auditoriums. Do you want to rip a searing solo that will doom the souls of everyone who hears your ungodly etude? She'll do it with a smile. Do you want to lay down the most mellow, tender blanket of jazz chords without a single snap or crackle? She'll be glad to. She will melt your heart and inspire you to be the best possible player you can be. The only question that remains is... can you afford her?