Features:

8

Sound:

9

Action, Fit & Finish:

8

Reliability & Durability:

9

Overall Impression:

9

Reviewer's score:

8.6

Superb

Users' score:

9

(

2 votes

)
Price paid: £ 190
Features — 8
2013. Serial code is S (Korea) but apparently it is still made in China. You tell me what is right. Body is mahogany. Neck and body completely painted in ivory satin. Set neck. Two tapped humbuckers. Double cutaway with slight ribcage sculpting but none for strumming arm like a Strat. Bridge is tune-o-matic style with a Gibraltar tailpiece. Fingerboard has some plastic looking fake inlays. Gold plated metal. Small scale fretboard like a Gibson. Coil taps turn each humbucker to parallel or single coil. Two little switches control this. The guitar is somewhat lighter than a traditional Les Paul but is heavier than a Strat. It is slightly neck heavy like an SG. It is aimed at the serious musician market. It is a cheap version of the AR325 and AR420 because there is no fancy veneer top to admire. However in ivory it looks very good. I give this an 8 out of 10 because it has so much for so little cash.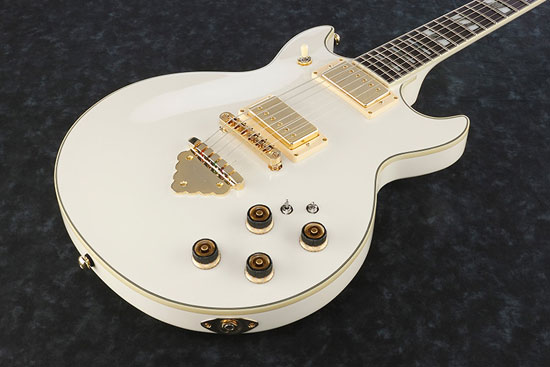 Sound — 9
The pickups are quite mellow sounding so you can do jazz/fusion very well on this. It has decent sustain, not up to a Les Paul however. When you crank it up it can do rock sounds very well. The pickups are very well articulated and sound like Alnico PAF humbuckers should. I highly recommend them and they are not cheap inferior copies. I use it with a tube amp. The switches and selectronics are quiet with only one switch giving a very small click when you switch it. This guitar can be used for rock, jazz and fusion. It is not suitable for country style as it has small scale and mellowish pickups. You won't get the same attacking sound out of it that you get out of a Fender Strat/Tele.
Action, Fit & Finish — 8
I bought this secondhand so... The guitar had the bridge lowered a bit too far, this caused the centre string to not play so well up the neck. I raised the bridge and this solved it. The general finish of the guitar is excellent. As good as anything I have seen. The tuners and knobs could have more money spent on them, they appear to be fairly light weight. However, the guitar stays in tune and there is no dragging on the nut of the strings. The neck appears well fitted. AS the guitar is painted I can't comment on the wood. There are no flaws on the manufacture of the guitar. The gold plating on the bridge pickup has worn where the previous owner strummed. Looks like it was used by a heavy strummer. Pickups appear to be well adjusted. The neck is a joy, although painted on the back it is slick and easy to play. Small scale Gibson style makes string bending easy, frets are well finished and consistent.
Reliability & Durability — 9
The guitar is very solid and will survive reasonable use. Strap buttons are solid. The switches are very good quality, better than anything Epiphone or Squier come up with. The knobs appear to be a little light and I can see the previous owner has had to reseat one on the pot spindle as the numbers are misaligned. This guitar is aimed at the serious musician, it is a proper instrument and is not a cheap toy. The paint coating is very solid. However it appears to chip when you give it a big enough knock. But this can happen with any guitar. Bridge and cable socket are extremely solid, no play whatsoever. This guitar can be used in any situation. It raises the question of why buy a more expensive guitar, if this is so good. Obviously there are better guitars, but are they worth 10 times more money?
Overall Impression — 9
For the money this guitar is excellent. I give it a 9 out of 10 because the quality control on it was of a very high standard. If it was lost or stolen I would buy another one. In fact I am thinking of saving up for the Made in Japan prestige ones. I have been playing for 30 years and own an Epiphone LP and a Fender Strat Mexican. This guitar is better made than both of those. I love the neck, the pickups, the ability to blend in different sounds with the four knobs and the coil tapping. It is a very versatile and good sounding instrument.