Features:

8

Sound:

9

Action, Fit & Finish:

8

Reliability & Durability:

8

Overall Impression:

10

Reviewer's score:

8.6

Superb

Users' score:

9

(

4 votes

)
Price paid: A$ 700
Purchased from: Port Mac Guitars
Features — 8
2014 made on Indonesia. Offset "Tele style" FR body with Wizard II neck and 24 frets on a rosewood fretboard. Although the website states it's made of mahogany it looks, feels and sounds similar to an alder body (may be lost in translation) and is the standard weight you'd expect from a telecaster. The body featured a lovely dark sunburst finish with creme-white binding and gold hardware. The guitar is set up humbucker/single a set up all too rare especially in telecaster. Pickups are passive Ibanez house made named ToneCore. The bridge is your standard six saddle string through Tele bridge that does its no frills job well enough and creates a good amount of sustain. Tuners are house too but hold tuning insanely well for house Tuners. I've never bought a mid/lower priced guitar that the hardware holds up so well.

The game changer in this guitar is the offset layout. The butt of the guitar is a standard Strat/Tele/RG shape however the lower and upper horns are formed into a jag style (lower) and sharper Tele shape allowing heaps of access to the upper frets. On a strap the FR sits amazing (for me and anyone accustomed to Jags/Jazzmaster so all you hipsters will be laughing) and the access to higher frets and skinny neck make the FR shred friends. Add to this the elbow curve on the front and "tummy cut" and Ibanez neck joint and this guitar shares features with Fenders Custom Shop Teles at a 10th of the price. Points are deducted for no mind blowing features and finish of the Gold humbucker covers are very easy to scuff and look prone to sweat erosion.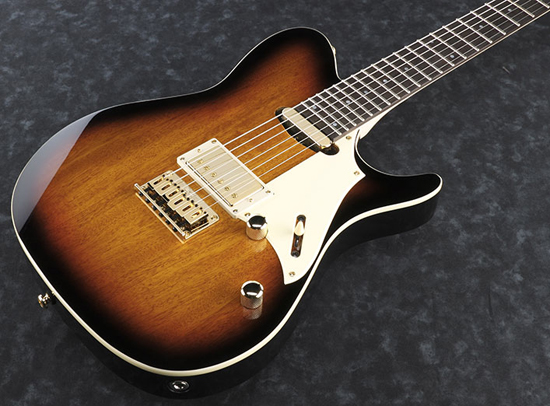 Sound — 9
I play punk rock and any genre you can hyphenate and add punk to. Primarily though, hardcore, garage punk and folk music make up my sound. This. Fits. Perfectly. The twang from the neck pickup is text book. Roll off the tone and volume at 6 o'clock and the warm jazzy tone it brings out I'd outstanding. Middle position gets my FIDLAR/Jay Reatard and Against Me! needs. The humbucker screams. I think it would be considered medium output. It probably could be used as a "heavy" sound but I prefer to get a nice fuzzy overdrive that really gets the original punk tone-nice, beefy roaring. I only use a Blackstar ID at home but have access to a Peavey Valve King and Blackstar HT. Particularly the HT and this guy prompted my buying an ID for the house. The only problem I can get with the sound is a hiss on the single coil although it's only random and most likely to come from my cheapo Fender lead.

I'm super pleased with this guy especially at the price point. I may look into changing out the pickups one day but I'm happy with it for the foreseeable future. The FR lends itself to be a great modding platform for that way inclined buyers. Score is 9/10 best in its range by far but isn't going to sound as good as a '59.
Action, Fit & Finish — 8
I bought this guy off the wall from Pet Mac so I can't speak for the factory set up although previous Ibanez I've had were set up awesome. Pickups height was great and no buzz issues. Here's where the guitar shows its price point. The routing although up to the standard had a small amount of wood dust when taking the screws off for inspection. The cut wood had been sanded though. The circuit was neatly soldered and wires wrapped well and tight. I'm not into the technical side but it looks like a good job enough job. The rosewood fretboard is no frills. X jumbo frets are good and no sharp edges. The wood is dark and no dents or overt tinting. The plastic covers on the back were clean and show no dents and the cut was sanded and clean. The scratch plate on the other hand is a real let down. The shape is going to divide opinion. I myself aren't too keen on it. The fact that it was evidently cut quickly and as result lacks the neat cut of the back plastic is a real disappointment considering vice versa is usually the case. The saving grace is that the finish and fit is otherwise outstanding and high above other new guitars in this price point.
Reliability & Durability — 8
I have no reason to doubt this would stand up live although I haven't tested it outside of jamming at mates. Previous experience tells me yes. Strap buttons are always secondary to having strap locks but the layout of the body means this guy sits perfectly. I'd take a secondary guitar anyway as I use D standard and standard tuning both. The finish is the only question at this point. Gold hardware erodes and the FR uses heaps of gold. The finish on the body is lacquered again prone to scratches, scuffs and other marks but I don't really have an reason to distrust it.
Overall Impression — 10
I play punk and any subgenres that associates with it. This guitar is a perfect match for me. Not too heavy and not too soft. I'm by no means the best guitarist ever I've been pretty slack with playing for years but in the last two years I've got much more serious about my playing. I've owned three other Ibanez two I still own a jazz box and a lawsuit era '78 Les Paul Custom which is too fragile for gigging and jamming. I'd have to get my hands on another FR if this was lost or stolen. I don't have much interest in other shapes or layouts than what the FR gives me. In the future I could go for some DiMarzios maybe a Twang King and AT1 but this is only a dream.