Features:

9

Sound:

10

Action, Fit & Finish:

10

Reliability & Durability:

8

Overall Impression:

9

Reviewer's score:

9.2

Superb

Users' score:

9

(

5 votes

)
Price paid: $ 900
Purchased from: Andertons UK
Features — 9
The Ibanez JEM77P BF (Blue floral) is a looker, without a doubt one of the more popular JEM's to come out of Ibanez's Indonesian factory mainly due to its fantastic paintjob and maple fretboard, which was last seen on the old blue floral JEM from the '90s.

What you get: American basswood body, Maple/walnut neck/fretboard with KTS titanium reinforcements for added sustain and stability, Ibanez's own tuners, Steve's DiMarzio Gravity Storm humbuckers and a evolution single coil in the middle position, Ibanez Edge Zero II tremolo and vol/tone/5-way switching.
Sound — 10
Since we are in 2016, there isn't a style that you can't play on any specific guitar, you can metal out on a telecaster, and you can jazz out on a warlock. I never thought of myself as having a "style" as it all depends on my mood, but I guess I would call myself mainly a metal player, mostly a rhythm player with the occasional solo, I find myself playing a lot of fast rhythm, think Iced Earth/Skeletonwitch/general thrash metal, that being said, this guitar does that very well. The DiMarzio Gravity Storm have a very articulate and responsive, and they handle high amounts of gain very well, and sound beautiful on clean and crunch.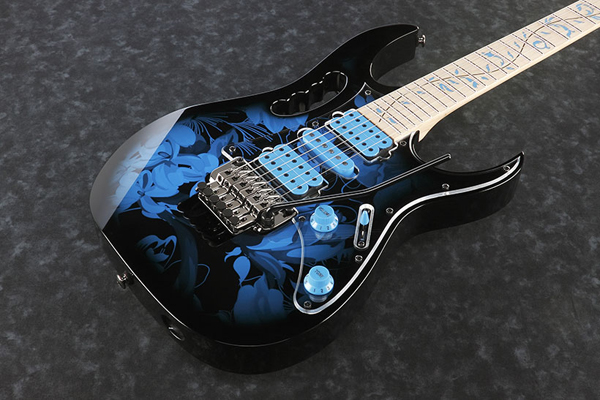 As for what the guitar can really do, I am just starting to scratch the surface, using my Blackstar ID:60, which has a metric ton of variation in itself, I can pretty much dial in a tone for any style of music, and the guitar seems to handle everything very well.

Action, Fit & Finish — 10
As I got it second hand, from a very serious collector of Ibanez's (mainly Paul Gilbert guitars) it was set up perfectly with 9-42 strings (a little thin for my liking, but it'll do) and as low string height as possible without having to part with any tone. As for flaws I can't find any, the guitar was well taken care and stored by the previous owner, so it is as perfect in my hands as it was when the other guy bought it, of course there might be some that disagree or have gotten a guitar with the occasional fault from the factory, but I doubt a premium Ibanez will come with a lot of faults.

Reliability & Durability — 8
With the KTS titanium rods in the neck, the neck on this guitar will stay straight for longer, and keep tuning issues to a minimum, all though I don't tour around the world in and out of crazy weather, I am sure it will hold, with no more than the usual neck adjustments. As for the hardware, my main concern was the Edge Zero II bridge, which some people seem to be negative about, as it does not hold its own against the original JEM bridge, the original Edge trem, that being said, I love the Edge Zero II, I have no tuning issues no matter how much I whammy about, and since the zero bridge removes a lot of the hazzle when it comes to changing strings as it always returns to the zero point (flat), it's a fantastic bridge in my eyes, and I would certainly gig (and hopefully will) over and over.

Overall Impression — 9
Now as I said, every guitar can do every style, so it comes down to whether you think the guitar "looks the part" or not, and I think this guitar suits my style very well, with fast technical rhythm metal playing, and the occasional solo, with the opportunity for split coils and what not, I think this guitar suits me very well. Having played for about 11 years, and having GAS (Gear Acquisition Syndrome) I have had a lot of guitars come and go, from probably every brand imaginable, and my fixation with the Ibanez RG started with the RG350MYE, which I tinkered a lot with, so when this JEM came for sale, I thought it was time to try something a little more high end in the Ibanez catalogue, and I have not been disappointed, this might just be my favorite guitar after "mainly" swearing to ESP for the last 3-4 years and if this JEM was stolen, I would DEFINITELY replace it with another.

So if you are in the market for a guitar that looks stunning, and will do any style with ease, look no further, this beauty will make you look good on stage and wherever, and make for some great live pictures.