Features:

10

Sound:

10

Action, Fit & Finish:

9

Reliability & Durability:

10

Overall Impression:

10

Reviewer's score:

9.8

Superb

Users' score:

6.2

(

10 votes

)
Price paid: $ 399
Purchased from: Guitar Center
Features — 10
This Ibanez is a 24 fret beast. I've had it for 3 years now and it's help up amazingly. It has a 3pc Maple Wizard III neck that sports a rosewood fret board with pearl off-set dot inlays. The pickups are Ibanez V7 (neck) and V8 (bridge). Though it is available in multiple colors, the transparent red is by far my favorite, but both are beautiful. Also, the guitar's body basswood and is made in Indonesia. The controls given are volume, tone, and coil tap. Finally, this Ibanez has a fixed bridge.
Sound — 10
For metal, rock, and other heavy genres, this guitar is killer. I wouldn't attempt playing folk or country with it (though I have actually done it), but hey, that's what Davis Allan Coe did with one of Dime's Washburn models, so you never know. The coil tap does allow some really nice cleans. Back to the distortion, there's not much to say, it just produces a nice heavy crispy tone. I can get some out of this world pinch harmonics with it, and some clean natural harmonics as well. All 24 frets are easily playable.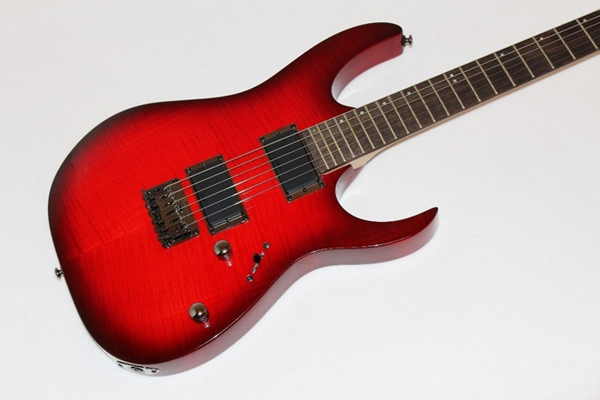 Action, Fit & Finish — 9
I'm going to give the opposing the benefit of the doubt and rate this at a nine because I had a guitar technician trick this guitar out for me right after I bought it. From factory it still sounded great though. There were, and are still no flaws whatsoever with my Ibanez RG. Moreover, I have done research on it, and nobody seems to have had any problems with it. The only exception to that, the pickups. People seemed to complain about them, but I personally think they sound great. I prefer low action guitars and this one delivers exactly what I demand out of a guitar.
Reliability & Durability — 10
Though I have never performed a live show with it, I'm positive it could handle it without one single hangup. I've put 1,000's of hours on it, so I can say I could comfortably gig without a backup. Everything has held up amazingly in the past 3 years and I've only had to make minor checkups, for that, I have nicknamed it "Trusty." I have actually replaced the strap buttons with Dunlop's Signature Strap Lock System, but I've done that with every guitar I've owned and it wasn't a problem at all.
Overall Impression — 10
For the lighter musical genres, I wouldn't recommend this product. Mainly because it as and was intended as a rock/metal guitar. For me, this guitar is perfect and I would buy it again without a doubt if I had lost it. My favorite feature is possibly the larger scale length, it just suits me amazingly. For any beginners to advanced ax men, this should definitely be your next guitar. From head stock, to neck, to body, to pickup, this is one solid guitar. Ibanez really earned my respect with this model.