Features:

9

Sound:

9

Action, Fit & Finish:

9

Reliability & Durability:

7

Overall Impression:

9

Reviewer's score:

8.6

Superb

Users' score:

8.8

(

5 votes

)
Price paid: € 560
Purchased from: BAX Shop
Features — 9
The Jackson RRXMG's are being manufactured in India. Mine has 24 jumbo frets, a nice slim maple neck and a basswood body. It is a Neck through construction. I chose the satin black finish, but there are plenty of other cool finishes available. It has an EMG 81 at the bridge and an EMG 85 on the neck position, with 3 knobs for tone control. The Jackson branded tuners are doing their job well so far, and the Floyd Rose Special bridge is fine, too. I only somehow managed to break on of the string holders and replaced them with Schaller parts.
Sound — 9
The Jackson RR's are obviously designed for metal, and it suits it perfectly, both soundwise and when it comes to the looks. I tried it on some amps, too, but at home I just use Guitar Rig 5. I produces only little noise that can be easily suppressed with a noise gate. The sounds I can get from it are awesome. I love the 85's clean sound, especially with an EQ to boost the high frequencies. The high gain stuff sound great on both pickups, while I prefer the 81 only for rhythm stuff and the Lead parts on the 85, which has more of the low and high end and the 81 appears to have a lot of mids. The hardcore sounds you can get from it are pretty good, too. I hardly play anything else but hardcore and metal, but it seems like you can even play some nice blues with it.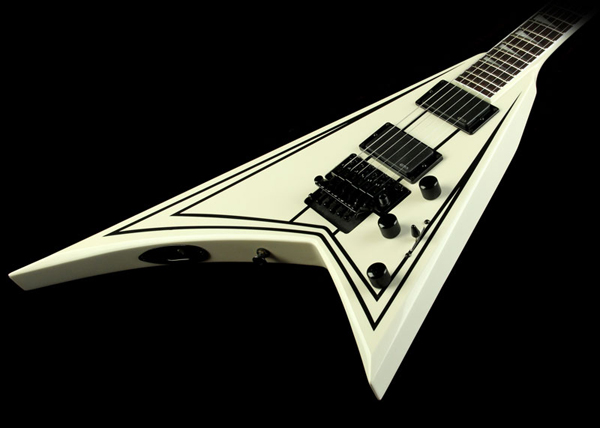 Action, Fit & Finish — 9
The guitar arrived at my home adjusted pretty well, but I immediately changed the strings and tuned it down to D. The only flaw it has is a really tiny glue stain or something that isn't that bad. If you don't search for it, you won't notice it. When it arrived, at first the tone controls scratched a little and made some noise when being turned, but this stopped after using them for some hours. What I want to add is that if you want to use heavier strings without super low tunings like 11-54 on D standard, you have to get an extra spring for the FR system to be able to balance it.
Reliability & Durability — 7
You could absolutely use this as a main guitar for live playing, band practice or whatever. Apart from the bridge parts I replaced, I don't think there is anything that could just randomly break any time soon. Using it live without a backup would be a little risky tho, if a string breaks on your FR bridge you're fucked :D The strap buttons work well, too. If you're into doing guitar flips/spins/etc. you should probably go for some strap locks to install ;) The satin black finish turns shiny on the spots where you put you hand and so on pretty quickly, but thats a common thing with these type of finishes.
Overall Impression — 9
It is a great guitar for the harder genres of rock. The traditional Rhoads body style could get a little annoying without a cutaway like the ESP Alexi-200 (which is in the same price range) features, but what made me choose the Jackson over the ESP was mainly the electronics. The ESP only features a generic bridge pickup but also it only has a set neck. Maybe I'm going to replace the pickups with some passive Seymour Duncans, but in this price range the EMG's as built in pickups are a great deal. I managed to pick it up for quite a low price, I think actually it's like ~730€. But even for 200€ more this would still be a great guitar.