Features:

10

Sound:

8

Action, Fit & Finish:

10

Reliability & Durability:

9

Overall Impression:

10

Reviewer's score:

9.4

Superb

Users' score:

5.7

(

6 votes

)
Price paid: € 459
Purchased from: Thomann DE
Features — 10
Bought this beast from Thomann (Germany) last summer and I don't regret it. I chose this particular guitar because I really wanted a guitar with NO tone knob, NO neck pickup. Why? Over the years, I realized that I needed neither. Some would argue that 1 pup axe looks weird. Not for me.

So, this guitar has a basswood soloist-style body with an awesome finish, a maple through-the-body-neck with a rosewood fingerboard. The neck has a 25.5" (648 mm) scale, a compound radius (12" up to the 12th fret, and 16" after) and 24 jumbo frets.

It further features a Tune-O-Matic bridge with strings going though the body. I don't care whether this combination (plus neck-through construction) has greater sustain as many people argue. People used to believe that the Earth was flat, but no judgement xD For me, a TOM bridge and strings-through simply look better than Les Paul style stop tails. I also feel that TOM bridges are better for my picking hand. Fender-style hard-tail bridges are too close to the body for my taste.

Concerning electronics, which are passive, there seem to be no agreement on what pickup is featured on this guitar. Some shops write Duncan Designed HB102 (a copy of Duncan JB), others Duncan Designed HB103 (a copy of Duncan Distortion). But since Scott Ian plays JB, I would guess that it has HB102. Logically, no pup switch. The volume knob is great! The volume adjustment is smooth from 0 to 10.

Tuners are Jackson-made and non-locking, and seem to work well.

No other goodies were included.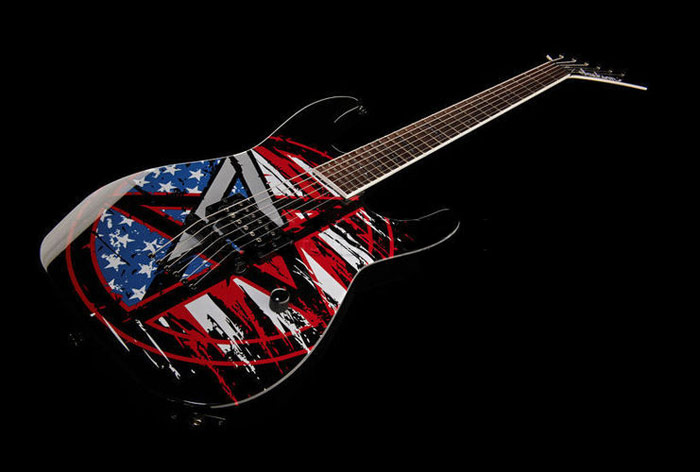 Sound — 8
It perfectly suits my music style, because I mainly do the rhythm work. I just crank the volume knob and I'm ready to go. I play mostly modern metal (melodic death, metalcore, alternative metal), and the Duncan Designed pickup seemed to handle the Drop C tuning well. Although I sometimes had the feeling that the low E string (0.060 gauge) sounded not very clear and articulate. Occasionally, power chords sounded a bit out of tune although the guitar was perfectly tuned and intonated. So I replaced the pup for Nazgul. The sound got really more articulate.

So, if you tune down and uses thicker gauges I'd recommend to switch pickups.
Action, Fit & Finish — 10
The set-up was good, although largely irrelevant. With 09-42 gauges that most guitars in a shop feature, you just can't go down. I bought a DR DDT set (10-60) and filed the slots for the low A and low E strings a bit. I used a piece of sand paper and a string to buttress it, worked great. Just be aware to not make the slots any deeper!

Then I adjusted action and intonation from scratch. Everything's fine.

Another detail: This guitar was returned to the shop by another customer. I checked everything but failed to find any flaws. Buyers are really picky these days.
Reliability & Durability — 9
Seems to be a solid piece of work from Indonesia ;) The only thing is that the black bridge shows signs of wear. The saddles are now rather grey-ish than black. But the most important thing is the sound, isn't it?

I attack the strings really hard with my right hand, and the guitar handles it very well. It stays in tune, even after 3h rehearsal. To be absolutely sure, I would someday install locking tuners. But for now, I'm content.

The finish still looks fresh and new after a year. The reason might be that I polish it regularly.
Overall Impression — 10
I absolutely love this guitar. I wished there would be more 1 pup models out there. So I would definitely buy the same guitar if my would be stolen or broken. I like the concept of a compound radius. It is a good compromise between chords, riffs and fast solo playing. As a rhythm player, I don't need 14 or 16 inch in the 1st fret. For this reason, I wouldn't choose guitars like ESP, Schecter or Ibanez. Their necks are too flat for me.

So if you're a rhythm guitarist in a metal band I would absolutely recommend this one for you. Of course, you might want to replace the stock pickup later, especially if you're a committed down-tuner, but the guitar as a whole is worth buying. BTW, I would not say I miss a neck pickup when I play my rare solo :D