Features:

7

Sound:

10

Action, Fit & Finish:

10

Reliability & Durability:

8

Overall Impression:

9

Reviewer's score:

8.8

Superb

Users' score:

6.3

(

9 votes

)
Price paid: € 215
Purchased from: Mediastore.hr
Features — 7
The guitar I played was made in China and it was made this year (2016) if I remember correctly. I played it in the shop for a few hours, so I cannot ready what year the model is, but I'm a long time player so I know what I'm talking about.

It has 22 frets, rosewood fret board on a set-neck mahogany neck on a mahogany body. The guitar isn't as heavy as a Tokai LP model for instance and therefore lays on the torso better (for me particularly, as I do not like extra heavy guitars). It also has a TOM bridge, two passive humbuckers, a three-way switch, 2 volume and 2 tone knobs. I played one in Trans Red finish which looks extraordinary. The out-of-the-box setup was very well done!

The only reason I've given it such a low grade in this section is the fact that the bridge volume knob was not correctly set into the body of the guitar - it actually touched the body while spun and that made it hard to manipulate while searching for and doing some dynamics in my tone. That mustn't happen. The rest is made very well and fits an LP style guitar quite nicely.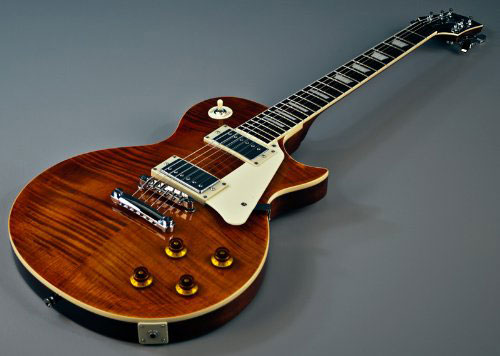 Sound — 10
I'm a guy that mostly plays metal on ANY guitar I take in my hand. Literally. I first try some clean chords and tones (to see how far a guitars' range goes, how clean it sounds on a clean channel and how articulate the tones are in particular chords and on particular frets). If it sounds good clean, then I gladly put the beast in high gain amps and/or sound presets I use on PC.

Just to let you know, I played this on Hughes & Kettner Tubemeister 18 Twelve. Take that as a notion, as that is not some random cheap-ass amp people seem to do reviews on when buying cheap guitars.

First of all, the tone is a banger. It's articulate, has a lot of punch to it, the sound is at bright as it gets on the bridge and sounds really, really full on the neck. You can get tons of sounds out of this guitar. The guitar itself has a particular bite one might search for when playing thrash or death metal, or even rock. It sounds really good for blues stuff too, as I like to play that after all the growling is done.

If you get this piece of gear for yourself, you'll be very, VERY well pleased with it! Trust me :)
Action, Fit & Finish — 10
As I already said, the out-of-the-box setup was done very good. The finish was flawless and it definitely looked like it can take a bump while not compromising the looks and quality of the body finish. All of the hardware was chrome, as well as the pickup covers. The guitar also had a cream-white pick guard which looked really nice on it, knowing the fact that I do not like pick guards very much. The neck was really smooth to play, polished so it doesn't tire the hand while playing (my hands are pretty small and I had a bumped small finger on my left hand so that's quite notable). Nothing bad of note here as all was done very well.
Reliability & Durability — 8
I would use it as a first guitar on stage, as it is really sturdy and seems very reliable for the use. I bought an LTD MH-1000 recently so I have no need of a JT on stage, but if I had some extra money I'd most probably take one - especially the Serpent model as it looks MINT! Wouldn't gig without a backup though, but that is mainly because I have a tendency to break picks and strings on live plays. I get pretty aggressive while playing and have a VERY hard picking style and pick attack. All of the hardware was done nicely and it would withstand even some of the hardest beatings (trust me, I've done those a lot).

At some point though, I'd get myself a better quality guitar as I am aiming towards living as a musician, so it wouldn't really be fitting to demolish a guitar like this by traveling to gigs all over Europe.
Overall Impression — 9
The guitar really left a good impression on me as a picky guitar player. If I got myself one and got it stolen, I'd probably skip getting another one simply because I'm simply a guy that loves to experiment with equipment under 400€. For its price range though, the guitar is absolutely gorgeous and plays like a dream. Would definitely recommend getting one yourself!

The only bad subject I stumbled upon it was that volume knob, but I'm sure it was only effed up on this particular guitar (as others in the shop had their pots well made). Other than that, I warmly recommend them to people of the world. I hope the review helped you guys decide. Cheers!