Features:

10

Sound:

10

Action, Fit & Finish:

10

Reliability & Durability:

10

Overall Impression:

10

Reviewer's score:

10

Gem

Users' score:

8.8

(

9 votes

)
Price paid: $ 2300
Purchased from: Ebay
Features — 10
Made in 2015, this Paul Reed Smith Paul's Guitar is Paul's personal guitar made available for mass production. It features a maple top, mahogany back and neck, and Honduran rosewood for the fretboard. 22 frets, pattern neck shape, brush stroke bird inlays, PRS tremolo, and Phase 3 locking tuners. The pickups are based on the 408 model, but with some modifications made by Paul. I got mine in the grey black finish which is wonderful. It came with a paisley hard case. Looks really fancy, perfect for a fancy guitar.
Sound — 10
This would be the 10th guitar in my arsenal. I've had and do have Fender Jaguars, a Gibson Les Paul, a Greco Mirage, and an Ibanez S Classic. I've bought some, traded some, and kept the ones I really like. I rarely do covers as my band plays our own compositions, but I do like having a good variety of tones accessible to me. My ears have grown a little too picky with tones, hence I usually end up modding my guitars to achieve the tone I want. Despite this, every guitar still have just one tone spectrum, so sometimes I have to bring more than one guitar to gigs. Paul's Guitar solves that problem. Since it comes with 2 humbuckers that have a coil tap switch for each one, using pickup selector, you can achieve 8 different tones by the 8 possible pickup combinations (HX, XH, HH, SS, SX, XS, HS, SH. *X meaning off). It's like the Swiss army knife of guitars.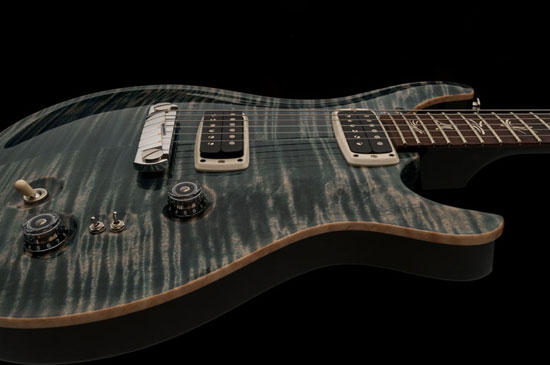 Every tone of this guitar is beautiful. The coil tap is very usable. Unlike other guitars with coil taps, this one does not have any volume drop when switching to singles. The sound is very resonant and clear, and the sustain really sinks in. Just by strumming a chord, you can already hear the articulation of this guitar. Bending strings maintains a rich thick sound even up to the highest frets. The pickups also respond well to playing dynamics. The sound definitely cuts through a thick mix in the band while maintaining note for note clarity, even in high gain.

This definitely kills all my other guitars and is the best sounding guitar right now for me.

Action, Fit & Finish — 10
The guitar arrived with the action a little high for my preference so I had it adjusted. The guitar is just absolutely gorgeous. The finish is flawless. The flamed mahogany top is very beautiful to look at. Built wise, it screams quality. It's well built to the finest details that even the knobs feel so good to turn. Everything about it says "high end." You can definitely tell that PRS is not only serious about making guitars that are good musical tools, they are also serious about making guitars that are beautiful artefacts. This is definitely a beautiful looking and sounding guitar.

Reliability & Durability — 10
Given the top built quality of this guitar, it will definitely stand years and years of active playing, whether in a bedroom, studio, or live gigs. Paul said himself that his guitars are so well built that it should not be seeing a repairman within 15 years of active playing. I'm taking his word for it. Although there's a note from one of the case candies that says some finishes may have discolouration when constantly exposed to light, so I guess I'll be taking note of that.

The variety of tones it can make makes it a very versatile guitar that you definitely would not need any other guitar to bring to a gig just to achieve different tones.

Overall Impression — 10
My style of music is a fusion of modern rock, post rock, and ambient sounds. I run my signal chain through a series of pedals. I use delays heavily, combined with light overdrive and some crunch. This guitar is a good match for my gear, and I will definitely be playing this guitar most of the time. In fact, I can actually survive with just this one guitar in my rig. If there's something I don't like about this guitar, that would be that the 8 different sound can be a little confusing sometimes, as I'm more of a plug and play guy. But that's not really an issue. I absolutely love this guitar.