Features:

10

Sound:

10

Action, Fit & Finish:

9

Reliability & Durability:

10

Overall Impression:

10

Reviewer's score:

9.8

Superb

Users' score:

8.9

(

8 votes

)
Price paid: £ 570
Purchased from: Rich Tone Music
Features — 10
Korean made PRS with mahogany body, a maple cap and quilt maple veneer that looks beautiful in the purple that my guitar is finished in, especially with the zebra pickups. The neck is also mahogany with a rosewood fingerboard. The guitar has one volume control and one tone with a 3-way selector. Coil splitting via a push/pull pot comes standard, though I've changed mine to a push/push that makes the guitar out-of-phase. The standard pickups are VB in the neck and HFS in the bridge, which is pretty common at this sort of price point. The bridge is Original Floyd Rose and I think that all things considered, this is a lot of bang for your buck.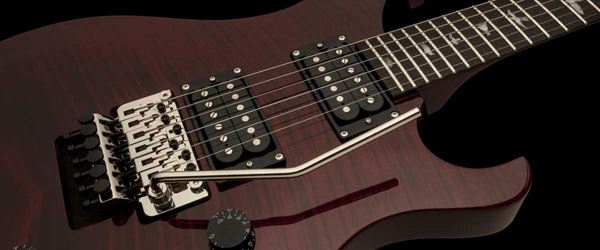 Sound — 10
All that mahogany gives the guitar a warm, full and rich tone acoustically but plugged into an amp, a lot is down to the pickups. They're OK for stock items I guess and you can't expect top quality for this sort of money but if you want to make the most of this superb guitar, you'll invest some money in top quality pickups. I went to The Creamery in Manchester and bought a "Double Six" for the bridge and "Classic '59" for the neck. The guitar is now a beast and great for both rock and metal. Part of the beauty of this guitar is that it will do pretty much anything. I used to have a normal Custom 24 that was loaded with Bare Knuckle Crawlers and that was great at blues rock and heavy rock. There's honestly not much you can't do with a PRS SE Custom 24. I've owned three PRS Custom 24s and each one has been superb. I play through a BluGuitar AMP1 at the moment, though while I've owned this guitar I've also used it through an Orange TH30 and a Blackstar HT-60 Soloist.
Action, Fit & Finish — 9
Factory set up is excellent and only needed a little tweaking to make it perfect. the action is low and the neck is lovely and slim. It's not insanely slim like Ibanez necks but certainly a fast neck. There are no blemishes on the paintwork and everything about it screams quality. With an OFR bridge, I naturally have tremendous tuning stability anyway but based on my other two PRS guitars I can tell you that the guitar holds tune very well indeed. The OFR trem is obviously top drawer. My only gripe is the location of the controls as the selector switch isn't anything like as easy to use as that on a Fender or Gibson. I'll knock one mark off for that.
Reliability & Durability — 10
One of the reasons I love PRS SE guitars is that they are really top quality guitars for surprisingly little money. I realise that the full American models are probably noticeably better quality but another £1500+? I don't think the difference is anywhere like that much. I wouldn't even consider the S2 series because the SE models are so good. My other guitars are a Mexican Fender Standard Stratocaster and an American Gibson Les Paul Studio and this Korean PRS is hands down the best quality guitar I own by a considerable margin. What's more, I've not just been "lucky" to find a gem because both of the other two PRS guitars I've owned were exactly the same. What's more, unless you buy a Fender or Gibson, nothing else is going to hold its value so well.
Overall Impression — 10
This really is my perfect guitar. Not only is the guitar superb quality, beautiful to look at and beautiful to play, it's also highly versatile. Put a set of straplocks on it and pickups of your choice and you'll have a guitar that will last you years and cover almost any style. It's a double-cut guitar with upper fret access that is so good I haven't missed my old neck-thru guitars at all. In fact, this raises a key question: Why buy this instead of the PRS SE Torero? For me, the Custom 24 with a Floyd has a number of distinct advantages over the Torero:

1) The maple neck-thru design offers no advantage at all over the Custom 24 in terms of upper fret access or anything else.
2) Getting pickups to work with maple is a hell of a lot harder than finding pickups to work with mahogany.
3) The Custom 24 doesn't come with those horrible EMG pickups.
4) The Custom 24 has the beautiful bird inlays whereas the Torero has nothing.
5) I prefer the more restrained look of the Custom 24.
6) It will be a lot easier to sell a Custom 24 than a Torero and it will achieve a higher resale price.

I can only assume a lot of people agree with me on this as the Torero used to cost more to buy but today, a Torero can be had for a good bit less money and even at that they're harder to find.

The PRS SE Custom 24 is an incredible guitar and with the addition of an Original Floyd Rose bridge it's all the guitar you may ever need. If you've never tried one before, do yourself a favour.