UG Team
UG editorial team. A group of people who are passionate about guitar and music in general.
Features:

9

Sound:

7

Action, Fit & Finish:

9

Reliability & Durability:

8

Overall Impression:

9

Reviewer's score:

8.4

Superb

Users' score:

6.4

(

5 votes

)
Price paid: $ 499
Purchased from: www.RavenWestGuitars.com
Features — 9
What initially drew me to this guitar were the unique features it offered. It is a neck-thru telecaster with a Spalted Maple top. The sides of the body are Mahogany and the neck is Maple. The hardware, scale, three way pickup toggle, a tone and volume controls are all the same as you would find on a Standard Fender Tele. The neck radius is a bit thinner than your classic telecasters. The body is slightly thinner as well. The fretboard and headstock are equipped with blue abalone inlays - a raven on the 12th fret and a raven head on the headstock. It is made in the USA.
Sound — 7
I was curious about the tonal qualities of Spalted Maple. For those who don't know, Spalting generally occurs in dead trees. The coloration is the result of fungi that grows within the grains of the wood. So you often get Spalted Maple patterns that are very different from each other. Although Spalted Maple looks very unique and cool, it is also weaker than, for example, a slab of Alder or Ash. Only the top of the guitar is Spalted Maple, underneath is Mahogany, which as we all know, is a very tried and true tonewood, as is the Maple that comprises the neck. The pickups in the guitar are stock from Raven West. Overall I think that the guitar's design creates a pretty mellow tone. The strings on it are pretty heavy (they are actually the same ones it came with so I'm not sure what gauge they are), I would suggest maybe some lighter strings to add to the top end. If you're going to play leads, you may want to put some hotter pickups in but the neck is nice and thin and would be great for shredding. I would definitely recommend a nice effects setup to round out the tone.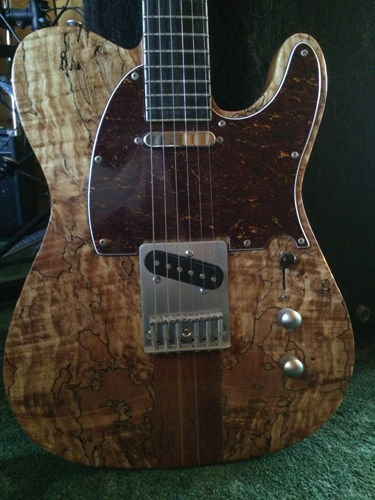 Action, Fit & Finish — 9
The action on this guitar is great, it stays in tune, and the intonation is spot on, even thru the harsh temperature and humidity changes in Northern Minnesota. The lightweight wood and the thinner body make this a very light guitar that you can play for hours. I also really like how they smoothed out the back of the neck where it meets the body. The neck itself is very comfortable, the frets came nicely dressed and smoothed. They also did a nice job on the clear coat, Spalted Maple is next to impossible to sand smooth, so they used a lot of layers and buffed out the clear coat, giving it a nice glossy finish.
Reliability & Durability — 8
I live in a very small cabin in Northern Minnesota. The weather here ranges from 60 degrees below zero to 100 above. The humidity also experiences massive swings. It is a harsh environment for guitars. I have had this Tele for 6 years now with no issues. The neck-thru construction makes it a very sturdy axe. I can set it down for months, pick it up and do only some very slight tuning adjustments and it plays great.
Overall Impression — 9
This is a cool guitar. It's kind of a piece of art that, frankly, I would be content to let it hang on the wall. But it does have a unique sound that could work for rock or blues. It doesn't have the country twang that the have. It sounds particularly heavy when run through a good distortion pedal like an MXR Distortion + or a Metal Muff. So it could offer a great mellow metal tone as well (a la Deftones). It's a great guitar if you're a fan of Telecasters but looking for something just a little different. Perfect for a guitarist trying to sculpt their own unique tone.