Features:

9

Sound:

10

Action, Fit & Finish:

8

Reliability & Durability:

8

Overall Impression:

10

Reviewer's score:

9

Superb

Users' score:

9

(

4 votes

)
Price paid: C$ 1100
Purchased from: LaMusic
Features — 9
The guitar is Korean made in 2015 or 2016. 24 Extra-Jumbo frets, 26.5" scale length, Mahogany body, ebony fingerboard on a maple neck with offset dot inlays. The guitar has a satin black finish, TOM bridge, Locking tuners, 3-way selector, and Seymour Duncan AHB-1 Blackout pickups. I would have preferred a different bridge, but this one is pretty good. This neck is super thing for a Schecter neck, and makes transitioning from a 6-string to a 7-string much easier. It didn't come with any accessories, other than an allen wrench.
Sound — 10
This guitar is being used exclusively for technical death metal, and it fits the bill perfectly. I'm running it into an Axe-FX II XL and it sounds great. Pickups are balanced, but very hot. Pinch harmonics are super easy, even on the neck pickup. It can chuggity chug chug all day long with no complaints. It's actually a step up from my friend's ATX Blackjack, with a thinner body, and no ringing behind the nut. This thing could do pretty much any style of metal you could imagine. The Blackouts sound really open for passive pickups, much better than the active EMG's.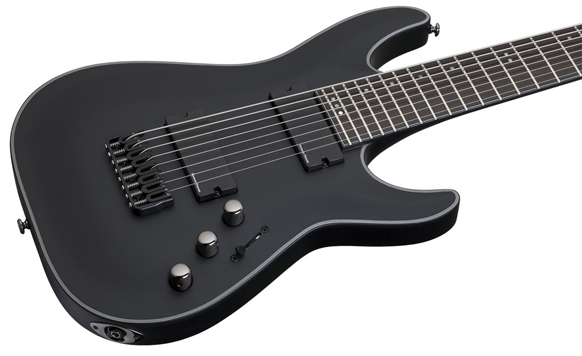 Action, Fit & Finish — 8
The guitar pretty well set up. Action was super low, but not buzzing at all. Intonation was dead on and the pickups were at the right height. Fret work and routing is immaculate. My only complaint would be the factory strings (Ernie Ball 9-56). They're a bit floppy on the bottom end for me so I'll be changing them out. The finish is really nice; no blemishes and it looks pretty sleek. I just wish this guitar was offered it with a hipshot bridge. Once again there were no issues with the setup other than the loose factory strings.
Reliability & Durability — 8
The guitar is pretty solid but I can't really speak for durability as it is still brand new. I'm looking forward to gigging with it. Almost all of the hardware feels pretty good. The only piece that's a little off would be the pickup selector. It doesn't feel as tight as it could, but its still pretty solid. The tuners work evenly, and I would compare them to the grovers I have on a different guitar (they are the Schecter models here).

I could see this guitar lasting a long time. I'll probably keep it as my main guitar for a while.
Overall Impression — 10
This guitar is perfect for a metal head. I'd take it over any Ibanez (except maybe some of the prestige serious $$$) and can't wait to play live with it. It's a metal machine so if you're trying to play any metal genre it's perfect. Outside of that I couldn't really recommend it though. I might change the pickups eventually (the Blackouts are good, but I prefer passive pickups). The only major feature this guitar doesn't have that I wish it did, would be fanned frets. 26.5" scale makes lead playing slightly more difficult.