Features:

10

Sound:

10

Action, Fit & Finish:

9

Reliability & Durability:

10

Overall Impression:

9

Reviewer's score:

9.6

Superb

Users' score:

8

(

2 votes

)
Price paid: $ 190
Purchased from: Rondo Music
Features — 10
Made in China, at an undefined year. (Between 2015 and 2016). The serial number is undocumented so I don't really now. But it's a quite new version of the Liquid models. It has 22 Jumbo frets, that are really nicely made and set-up on the neck. The body is Ash, with a Maple Neck and Maple Fretboard. Natural transparent finish. The body style is quite particular, inspired but the Fender Jazzmaster/Jaguar. I can say that it's a love or hate look. I personally love it. The tremolo is in the Jazzmaster style with a roller bridge. It has 2 passive P-90s with one volume and one tone control, and a 3-position switch. The pickups, tone and volume controls and pickup selector are matched in a cream beige color. The tuners looks like the grover ones and are non locking. I didn't order a case with it because with the shipping costs, it was really expensive. Unfortunately, the gig bag were out of stock. It's quite hard to find a gig bag or a case, because of the large body of this guitar.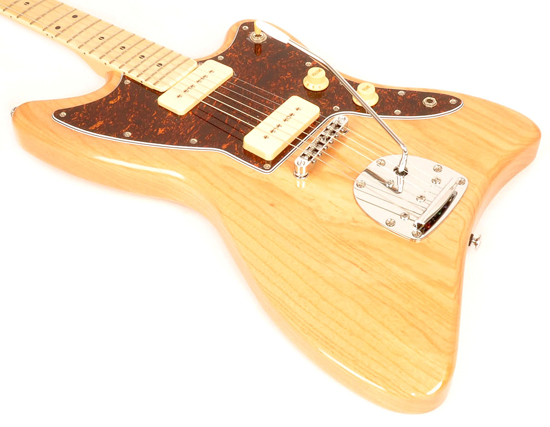 Sound — 10
It suits the music style I was searching for: rock, from the '60s to post-rock and can do hard rock too. I use it with BIAS Amp and BIAS FX. Mainly on Orange Rockerverb 50 and Vox AC30 simulations. As all single pickups, it tends to capture hums, but nothing bad. The sound is full with a lot of punch and clarity. The cleans are really beautiful and ringing with some special twang. With the tremolo arm, it suits perfect for surf music, rockabilly, psychobilly. And really creamy for blues in neck position! The crunch are really "rawk" and dynamics. Perfect for post-rock. The overdriven sounds are wild and pleasantly gritty for hard rock (from Black Sabbath sounds to Guns N' Roses sounds).
Action, Fit & Finish — 9
The guitar was nicely setup from the factory. The only thing were the strings gauge too heavy for this kind of guitar (for Jazzmaster/Jaguar like guitars, I prefer extra light gauges). The pickups were perfectly adjusted. The bridge is perfectly routed and the roller give it a really stable tuning. The only flaw is common too the Fender Jazzmaster and Jaguar: the tremolo arm tends too fall from its hole. Something that can be fixed with the Staytrem system or with plumber tape. Other than that, it's perfect. It stays in tune really well, even when I mistreat the tremolo.
Reliability & Durability — 10
This guitar withstand live playing really well. The neck and body seems to be really solid. The hardware looks solid too, the volume and tone controls are smooth but not loose. The selector reminds me the same sensation as my ex Gibson Firebird Studio. Once the tremolo arm is fixed, there is no other flaws left. There are no needs for other work. The straps are solidly attached. Even more than the Schecter I had. The jack hole does not unscrew itself. I would surely use it without a backup. It won't fall apart on a gig. The finish looks like quite undestructible. The varnish is well applied.
Overall Impression — 9
For my records of rock music, it matches perfectly. I play guitar for 20 years, but I'm most a bassist since 10 years. I also own a Agile Strat, an Agile Intrepid 828 with active pickups, an Hagstrom HJ-800. By the past, I also owned a Gibson Firebird Studio and a Schecter C-1 30th Anniversary. The only regret is that it has no others colors than natural, in its ash version. If it was stolen or lost, I would buy one again without hesitation. What I love is the incredible tone, the nice neck, and its look. What I "hate" is the Jazzmaster tremolo arm problem, but even Fender has not solved it in factory. Even if I can compare it in quality with my other guitars, there is nothing really similar to this guitar. I didn't find anywhere else. An ash body guitar with P-90 pickups except some Les Paul-like guitars, but it sounds really different.