Price paid: $ 200
Purchased from: Sam Ash Music Co.
Features: Around 1966, most kids learning to play received a single- or two-pickup, small-bodied, plywood-crafted guitar Made in Japan with junky hardware that probably didn't retail over $50. The K4L was Japanese company Teisco's top-of-the-line offering, up with the Spectrum 5. With prices equivalent to $600-700 today, the guitar was built out of solid mahogany with an elegant and attractive German carve. The radical body shape earned it the nickname "sharkfin" by Sears shoppers.

The neck was laminated, much like its cheaper counterparts, but to less of an extent so the lamination is more like "sandwiching" (the neck is made of seven laminations). The frets are rather flat and skinny, which is perhaps my only complaint about the instrument's building. I'm not a jumbo frets guy, either, but these frets are just not my cup of tea.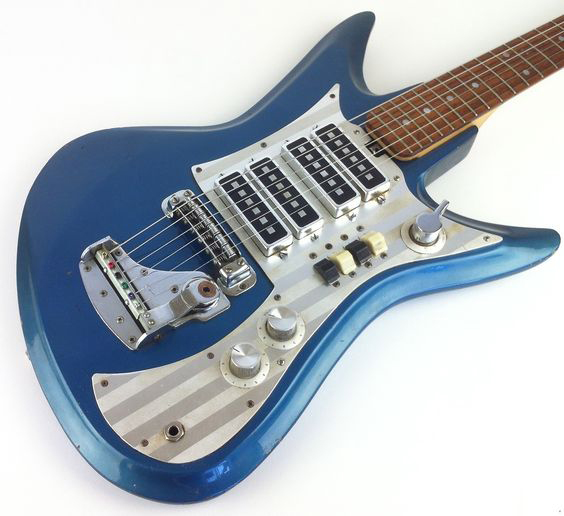 It was finished in a thin lacquer which will hold up well if you treat the guitar nicely. The vibrato bridge is a decent approximation of a Bigsby, and the bridge features intonation and rolling saddles - both VERY high-class offerings for guitars of this era!

Electronic controls include master volume and tone, pickup selection slide switches, and a two-way chickenhead switch. As Teisco's nomenclature implies, the K4L has four singlecoil pickups.

// 9

Sound: Aside from master volume and tone controls, the K4L is capable of producing exactly 30 distinct, individual tones. It has four pickups which are bright, clear, and airy, and each pickup is turned on or off with a slider switch. This means that all four pickups can be on at once, or none of them, or one, or two, in whatever order the player likes, which contributes 15 of the 30 tones (not counting "all off").

The chickenhead switch is marked "Rhythm/Solo." Switching to Rhythm mode cuts off the low-end frequencies, leaving the guitarist with a brighter, more brittle sound. Rolling the tone knob all the way back will cut out the sound completely. Solo mode retains all the frequencies, providing a fuller sound. Switching between the two gives you the other 15 tones, amounting to 30.

The range of sounds you can get with the pickups and switches is astounding. Depending on what combinations you decide on, the guitar can work like a charm for almost anything - blues, funk, jazz, surf (its strongest suit), hard rock, punk, bubblegum pop--essentially anything except perhaps shred metal (not easy with such small frets). This guitar is, in terms of tonal possibilities and versatility, superior to any guitar being made today. // 10

Action, Fit & Finish: Action is nice and low, and the vibrato bridge still had its ashtray-like cover (which always seems to go missing on these things). The metal pickguard shines like the sun, with the only flaws being some rusted screws. There are two chips in the paint, one on the lower horn and another at the heel. I was able to use these to an advantage, as they revealed the wood underneath, proving that the guitar was indeed made of good materials.

The one thing I'm not crazy about is the nut. It's cut low and the strings go over a zero fret, which is fine, but the cuts are wide, as though each one was cut for the low E string. This concerns me every time I bend a note - the string moves around in the nut and the high-pitched squeak of the length from nut to tuning machine can be heard. I'm worried that it'll wear through the string eventually. Ah, nothing a nut replacement can't fix. // 8

Reliability & Durability: Teiscos have a reputation for being poorly made, but the fact that so many still exist in working condition 45-50 years later attests to their durability. The K4L is absolutely capable of standing the test of time. The finish is persistent - aside from the two paint chips, mine is like new. The electronics will definitely get by with only some gaining of hiss.

As to gigging with it, I believe it is possible to do so. The question is not if you COULD, but rather if you SHOULD. These guitars are in short supply, kept safe and unsold by collectors. A backup would not necessarily be possible. This guitar is giggable, but common sense dictates it would be better to use it in the studio or in band practices/jams. // 8

Overall Impression: When it comes to my guitar collection, if I were forced to sell all of my gear except one and start over, this guitar would be the one I save. It's got the clarity of a Tele, the sparkle of a Strat, the fatness of a Les Paul, and sonic capabilities beyond what any other guitar maker is doing today. Its construction is beautiful in the same way a woman is beautiful, and unique in its beauty. If I lost this axe or if it got stolen, I would do everything in my power to get it back. There is no replacement for a K4L except another K4L.

You won't find this at Guitar Center, no sir. The Teisco K4L is above that. It's above them all. // 9