Features:

8

Sound:

8

Action, Fit & Finish:

9

Reliability & Durability:

8

Overall Impression:

8

Reviewer's score:

8.2

Superb

Users' score:

8

(

1 vote

)
Purchased from: Sight & Sound Music
Features — 8
This signature model from the Vintage brand is a Telecaster style design, with modifications on the classic Tele recipe thanks to Trev Wilkinson and Jerry Donahue. My example was made in 2015, no specific mention of the country of manufacture but I believe made in the far east. Tonewoods are a simple combination of an all maple neck and fretboard, and a thick alder body. Tuners are a vintage Gotoh/Fender style with the open slot top. The bridge is a fantastic Wilkinson unit with a steel plate loaded with tuning-compensated brass saddles. The frets are hefty medium-jumbo size. For electronics, the V58 has a beefy Tele bridge pickup and a slightly underwound Strat pickup in the neck position, both of Wilkinson design, volume and tone controls with knurled steel knobs, and a 5 way custom switching circuit that employs capacitors in certain positions to add extra tonal variety. Finish on the neck is a transparent satin, and the body is a satin blonde that just barely lets the wood grain peek through. The finishes on the guitar are impressively thin and feel fantastic, and really give the impression that nothing is hindering the resonance of the instrument.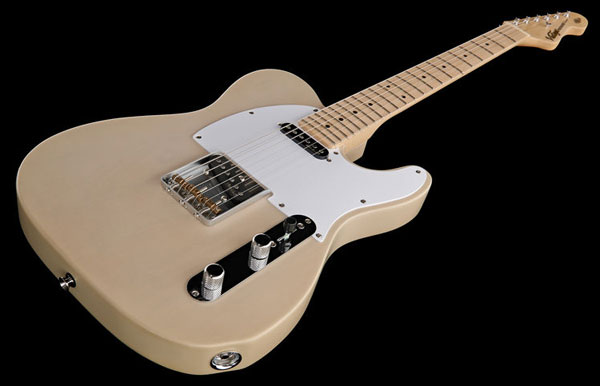 Sound — 8
Sounds from the V58 are a mixed bag. I bought this model over a stock Vintage brand Tele and other brands like Fender and Squier simply because it was more resonant and fatter sounding, not because of the custom switching setup. Acoustically, the guitar has a great ring and plenty of depth and sustain. I suspect the hefty brass saddles, thick body, thin finish, and fat neck have a lot of impact on the acoustic tone.

The 5-way switch adds two extra options in addition to the traditional neck, bridge, and both pickups combined tones. One of the extra positions is the neck pickup with the high end slightly attenuated to give a softer tone that's supposed to mimic a humbucker in a hollow jazz box, and the other sounds similar to the in-between position of the middle and bridge pickups on a strat. I find the three classic tones to be quite good, while the extra two are a little weak for my preferences and not entirely convincing. The bridge pickup tone is especially ballsy and thumping while still having a great twang, which is what drew me to this instrument versus other telecasters that often sound thin and wiry. I found the neck pickup a bit weak out of the box, raising it up close to the strings added some needed output without add the warble of magnetic pull that some neck single coils are guilty of.

I've considered re-wiring this guitar with a middle pickup and Strat type switching, just because I have more need for those sounds and they would be more authentic. However, if you're a diehard Tele player and want a guitar with more versatility, you may enjoy this model. Otherwise, it's a great choice for anyone that simply wants a fat sounding Telecaster.
Action, Fit & Finish — 9
My V58 was surprisingly well prepared for action the day I bought it. Frets were tidy on the ends, there was no buzzing or dead spots, and action height and neck relief were spot on. Despite the 7.5" radius, string bending hasn't caused any notes to fret out, and honestly I assumed it was a more modern radius until I looked up the spec. The neck is a thick, deep "U" shape with a substantial curvature on the sides and slightly flat on the back. Normally Telecaster necks don't agree with my smaller hands, but this one feels very comfortable. All of the hardware is sturdy and reliable, and the finish feels incredible. It seems that rather than applying the usual thick layers of clear coat that other brands favor, Vintage kept things simple and went with a thin, simple but elegant finish. I doubt at this price point it's nitro, but considering the way it feels and lets the guitar resonate, it might as well be.
Reliability & Durability — 8
So far the V58 has performed flawlessly. There have been no problems with slipping tuners, scratchy pots or switch, or anything else that would make me hesitate to gig with it. The only reason I haven't is because right now I'm in a hard rock band, and there's just no demand to play it out. I estimate that the finish may wear through as time goes on because of how thin it is, but hey, it's a Tele! A little natural relic will only add to the vibe of the guitar. I did replace the strap buttons with locking units, but I do that on all of my guitars.
Overall Impression — 8
I'm not a country player, but I dabble in many styles for fun and/or necessity, depending on the occasion, and a Tele seems to be one of those "gotta have one" guitars. Normally I play PRS guitars, I own SE, S2, and core models, and I was very surprised when I picked this guitar up on a whim that the quality and feel was so good. Usually I will pass right by "budget" guitars because they feel and sound cheap, but this is a solid instrument. And, the other half of the equation is that the sound of the guitar is everything I want it to be, twangy and punchy but with fatness and depth, not sounding like a mosquito in the ear like some Telecasters.