Purchased from: Musicgroup1
Features:
Infinium technology
Bugera's Infinium technology is a revolutionary method of extending the life of your amplifier's tubes up to 20 times. This process also self-biases each tube individually to keep them running optimally and does away with the need for expensive tube biasing repairs. The G20 Infinium employs this technology so you can use any type of power tubes that you choose. Whether your flavor is 6L6 or EL34, all you have to do is swap in the tubes and power up the G20.

Find your blend of American and British tones
Bugera added their popular Morph control to the tonestack of the G20 Infinium. This knob lets you choose between American and British-sounding EQ curves. Turn the knob to the left and you'll notice larger lows and a glassy top end. Crank it to the right and chime and mid presence come to the forefront. A lot of Sweetwater guitarists are adding this amp to their rigs for this control alone. And the Morph control is fully variable to allow you to dial in the perfect blend for whatever style of gig you're playing.

Many onboard options to fine-tune your sound
Though the G20 Infinium is incredibly easy to use, it comes with a surprising amount of flexibility for nailing the exact sound the situation calls for. The effects loop has a level button for use with pedals or line-level effects. A two-setting, speaker-emulated output works perfectly for headphones, recording, or playing live. And the G20 Infinium boasts a high quality reverb for adding some ambience to your passages. A footswitch out and indicators for tube life round out this very powerful amplifier.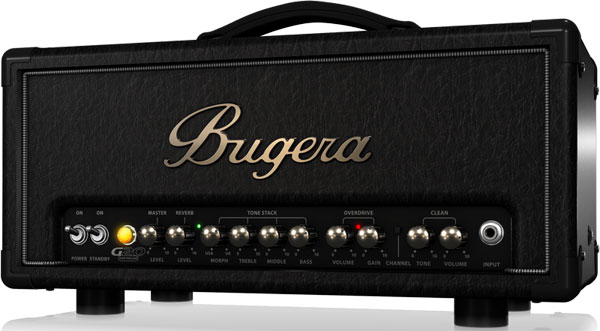 20 watt amp head.
2 channel
3-band EQ, Morph tone control
Preamp Tubes 2 x ECC83 (12AX7)
Power Tubes 2 x EL34
Footswitch included
20-watt tube amplifier head
Infinium technology extends the life of your tubes of choice
Morph control dials in American and British EQ tones
Effects loop with level switch
Speaker-emulated line-out is great for recording
Onboard reverb
2-button footswitch included
// 9
Sound: Suits my style quite well - hard rock, metal, rock. Using RAT Pro Co distortion pedal (circa '88) and modified wah pedal in front of it. Have Donner Giant Metal pedal ordered to fill out my pedal board a bit. Small bit of hiss on overdrive channel, but may be from dirty house power. The amp covers every style of music you can think of, but it isn't a super high-gain amp. Although it does get very close. If they would have put in a touch more gain this would have been a swiss-army knife of an amp. But that is ok. A good distortion pedal will makes things perfect. // 8
Reliability & Durability: Have already played with my group of jambros. At 20 watts, it holds up well within the garage/mancave/shed jam sessions. The head is well-built and everything is tight and snug. Even the contact points/feet on the bottom of the amp are beefy. The input jacks all have that clicky sound when you insert cables. I feel like the amp would withstand routine gigging, but I have read somewhere that the tubes are secured to the motherboard and not metal in any which way. Whether or not this means anything has yet to be discovered, and I can't see where it would hurt the performance of the amp at all. We shall see though. // 8
Overall Impression: I play a lot of classic metal (Priest, Maiden, Metallica, etc) as well as my own stuff. Been playing for 31 years. If I lost the amp to theft or destruction I would definitely buy another, and I love that you get that boutique-amp sound with this. Well, it IS a boutique amp after all. My previous amp was a Line 6 Spider II, 120w 2x10. Bugera is one of those companies that get looked at like certain cheap car companies. But this amp isn't cheap stuff. It is built VERY well, and sounds amazing. // 9