Features:

9

Sound:

8

Reliability & Durability:

9

Overall Impression:

9

Reviewer's score:

8.8

Superb

Users' score:

9.3

(

3 votes

)
Purchased from: Guitar Center
Features — 9
Made in 02/16 Fender's Mexico plant.

40 watts
12" Celestion G12P-80 speaker
Three channels (normal, drive, more drive)
Internal variable bias control
Effects loop, bright switch and Fender spring reverb
Fitted cover and two-button footswitch included
Improved volume and treble pots (can play on a low volume)
New speaker.
The standard for gigging guitarists worldwide and the ideal amp for crafting your own signature sound. Working guitarists everywhere prize no-frills Hot Rod amps for their great volume, reliability, responsiveness to effects pedals, and affordability. The Hot Rod Deluxe III is a scorching 40 watt 1x12" combo decked out with hot-rodded power and performance to spare, great features and a classic look.

Sound — 8
I play blues, country and jazz with an occasional sit in with both alternative and classic rock bands. The HRD III is a pretty solid amp for those music genres (but not metal). People should get this amp with the understanding that the HRD is a hot rod'ed Blues Deluxe which is designed around a Tweed/Bassman tone stack The Clean channel as most every review on the internet says.. Is great! What I didn't expect was how Bassman/Tweed'ish the amp sounds dialed up on the clean channel. If you like Tweed/Bassman cleans you will like the HRD clean. It's Loose & Big with a serious bottom. The Drive channel is vast and kinda unique. (Has a huge musical spectrum.) The Drive channel is governed by a master volume and is set with the Drive knob. Mild to aggressive "Over Drive" is obtained below six on the dial. (Drive goes up to 12). After six, the amp start to breath 21st century alternative rock liquid fire. IMO... Not really suited for metal, but TOTALLY way doable for alternative heavy rock venue!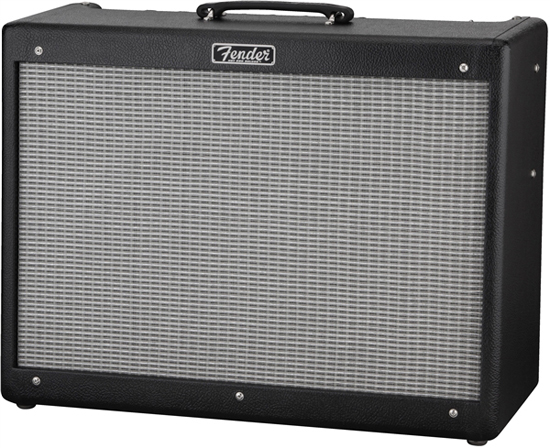 I use the amp as a Hot Rodded Tweed/Bassman (as I think Fender intended) I keep the Drive low, (4 or lower) As stated above... The HRD drive is pretty varied and extreme. (Very sensitive: on 4 is a thick overdrive great for blues and classic rock. Pretty creamy & warm. Keeping the Drive below 6 allows more of the Clean EQ setting to be functional when your on the Drive channel. I found the more I push the amp into alternative rock distortion mode the more I have to adjust the EQ away from my preferred clean settings. I use the "More Drive" channel as an accent for taking solos. The 12" Celestion G12P-80 speaker is interesting. IMO... Pretty good "Overall balanced" It does have a little brashness on the top end when in the Drive channel. (This Should mellow when the speaker gets broken in) IMO. IMO The amp sound best in between 4-6 on the volume (the stage working volume... one doesn't really dime HRD or most Fenders, the upper registers of the volume is designed for an additional speaker load. It's in how Fender does their OT Transformers) The HRD is not suited for jamming in a bedroom or apartment! Won't get the amp out of 1st gear without getting kicked out of the house or getting the cops called on you the HRD is a working musician's amp designed for the stage. Please take this into account.

Reliability & Durability — 9
All my HRD's have held up like tanks & I expect no less from this III, I also have a few friends who gig HRD's and they have had no issues either. When I prep a new amp for gigging I dime it (play it as loud as it will go) listening for rattle, speaker flubs etc etc. I go around and re-tighten/check everything. Opening the amp up I was pleased to fined dressed lead lines, silicone on filter caps where needed, adequate insulation of any resistors perched above the PCB. (Looks like they improved on some of the issues that HRD have been known to have).

Overall Impression — 9
This amp is a great if you play country, blues and jazz. If you play classical rock or alternative rock almost as good for that too. Get this amp if you like the Tweed/Bassman tones. Use this amp as a second choice if you like the Fender Black Face Deluxe Reverb i.e. scooped mids clean tones. If you play hard rock or metal the Distortion you're not going to be a fan of. (It's too alternative) Dimed. It's close to a great silicone fuzz in intensity. Which is very cool in the alternative rock scene!