Features:

8

Sound:

8

Reliability & Durability:

8

Overall Impression:

8

Reviewer's score:

8

Superb

Users' score:

8

(

2 votes

)
Purchased from: Sweetwater.com
Features — 8
A small (easy to carry) 60w acoustic guitar amp. A great gigging amp. Has instrument input and a vocal input as well. Perfect for a small gig or even as monitor use. The front has a phase switch, gain control, 3 band eq, reverb, and chorus effects for the instrument input. For the mic input there is gain control, 2 band eq, and reverb. The rear of the amp has D.I. out, 1/4 & 1/8" Aux inputs for jamming solo, accompaniment tracks, or whatever your little cold hard dark heart needs. Has a nice tweed look for class. Fedora not included.
Sound — 8
It does a fine job. I didn't have any experience playing an acoustic through and acoustic amp before (strange, I know.), but found this more than up for the job. The strings ring clear and are not too sharp, while the sounds of the low notes are heard well. I had to do some eq tweaking to get the best sound from my guitar but was happy with the results. It is a smaller speaker (6.5" woofer 1" tweeter (my God, I can relate to those dimensions)) so don't expect to shake any rooms, but for its size, the tone and quality of sound is impressive. The vocal response is also very good without sounding too "tinny" or flat. (maybe its just my amazing voice?)

The reverb is a sold "room" style that does give you some extra atmosphere when needed but even when dimed, doesn't get into the arena level reverb. I found the reverb to be roughly 12 o'clock mix in time/level/sustain settings that cannot be changed. The chorus has two different settings (mild/thick) and levels within. I never used chorus for my acoustic before so this was a bit of a novelty but was happy with the flavor it adds when placed in the right musical setting. Not having much experience with chorus I can't give you an internet professional assessment, but I'm sure you have one friend who knows everything and met someone famous who can tell you how good it "really is."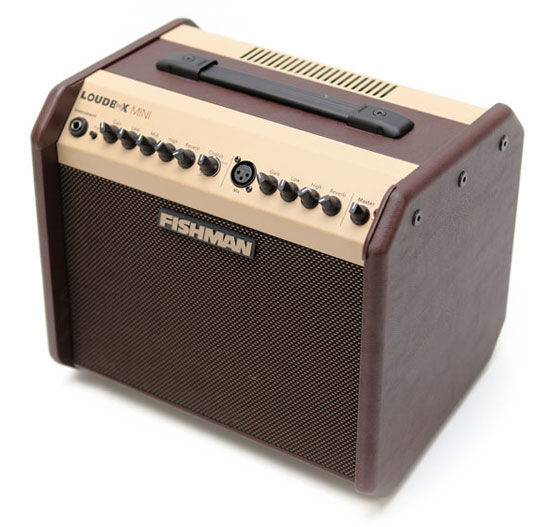 The vocal input is solid XLR without 48v phantom so have a dynamic mic or power supply for any others. Simple gain control and a basic Low/High EQ. Tweak for taste but I didn't change mine much. The reverb is very useful here depending on your song. I play some soft songs so this little knob makes me very happy. The reverb behaves the same as the instrument channel. Very simple to use but you really can't build a sound out of the effect.

I returned the first amp because the D.I. wasn't functioning. We had zero signal from it. Going to try the new one here in a few days and see how it goes through a board. I used this as a stereo the other day using the aux inputs and it was ok. The really low kick drum hits didn't pound out or shake the room but the overall sound was nice. The amp is really effective at what it does but it can't move air like a larger speaker could.

Reliability & Durability — 8
This amp is made for gigging. I place it behind me so I can hear my vocals and guitar while performing. I purchased the cover because damn, who wouldn't pay $20 to have their amp looking good after taking it everywhere. The handle is solid and the body took some hits on handrails without any marks. (Seriously, get an amp cover people.) I expect this little guy to last for a long time. Other than the D.I. problem that Sweetwater helped me with I have had no other issues. Everything seems like it will work for long enough. Fishman really seem to make some good products and after giving this amp a spin I will look into their products again. Solid.

Overall Impression — 8
I have been playing a little acoustic for a church group for a month now using this and was impressed with its sound and quality of sound for it's size. I play mostly church songs through this and it sounds amazing. Using the fishman HC soundhole pickup it really sounds full and rich. A great re-creation of the guitar's tone. Been playing acoustic about 4 years. Usually ran through a multi effects into a board so using an acoustic amp was new to me. I thought one could use an electric amp on a clean setting and have the same sound but was wrong. As with many other things, you can do it, but it just won't do the same quality of job as the amp it was intended for. Sure! You can use a hammer to open a can, but the results won't be the same if you had used a can opener instead. I would be quite livid if this was stolen and may attempt to use said hammer on the thief... while I prayed for them.