Price paid: $ 2499
Purchased from: Parkway Music
Features: 2016 USA Model - first run. Had the FX Loop mod done at factory already to fix issue with FX loop. 3 Channel Amp, MIDI switchable, Cab Clone DI. 2 5-band Equalizers, Selectable 60/100 Watt modes. Independent Reverb control for each channel. Included cover, footswitch and a very long footswitch cable (think 20'). Loaded with 4X6L6 power tubes and 5 12AX7 preamp tubes. 5 Year Warranty. Very rugged and compact - also very heavy for its size.

It's missing a few features I found very useful on my Mark V, like an Output volume control, Mute and Solo. Also, the FX loop has no level adjustment. This is not a SimulCast Boogie - that can be either a plus or negative. I am really indifferent to it, Class A/B is fine with me. If you are a studio junkie, or want to nail a wide variety of tones as close as possible there are better options. With that said - the JP-2C is a performance based beast and is ready to gig and play with the rest of your gear. Cab Clone is a great add on - but not as good as you would get from something like a Torpedo Live or Reload. It's still a handy feature and eliminates extra gear if you are into DI and Speaker Emulation. There are plenty options for Cabinets with 2 8ohm and 2 4ohm connections.

Finally - there is a slave out and a fairly useful Headphone jack that rides off the Cab Clone DI. Handy - but there are better sounding routes to go for this. It works in a pinch though.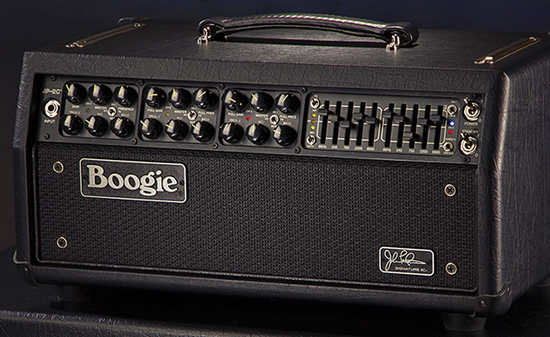 // 8
Sound: I've owned a Mark V for 9 months and had trouble finding a sound I wanted to stick with on it - it was always lacking that certain something. I sat down on a whim to try the JP-2C at one of the local music stores, and in about 15 - 30 seconds flat I had "the" sound I was looking for from a Mesa since purchasing the Mark V.

That was on channel 3 - the highest gain channel. I tried the clean channel and was immediately sold on it. It has a much cleaner sound then most Mesa's and doesn't break up. If you are looking for something that clips, look elsewhere. The clean channel is pristine. I went to Channel 2, and to my surprise this is also a very high gain channel and it immediately became clear to me that this amp is trying to be it's own amp and not 9 separate amps like the Mark V. I never owned a Mark IIC+ that his is based on, but it sounds worlds better than the IIC modes on other Mesa Mark series amps.

The sound of this amp totally sold me. I immediately went home, packed up my Mesa Mark V and a Krankenstein+ (which unlike a lot of people was one I liked) and traded them towards this. I knew I had to have this amp based on what I heard in the store. Most people will equate this amp with Metallica and of course Dream Theater - but it's not a one trick pony. Yes there are better choices for blues, folk, etc. But this will cover everything from dirty rock 'n' roll, to punk, to classic metal, to the more modern extended range guitar metal you hear today. The clean channel is a real winner on this amp too - it loved my piezo pickups and every note has a clarity to it.

I'll admit - I was nervous getting it home, cause a lot of times things sound different in the store then when you plug it in. I used a Marshall 4X12 at the store, I plugged it into a Mesa 1X12 Widebody Closed Back (C90) and that baby opened right up for this amp. I had nothing to worry about.

When you hear the term "3D sound" to describe a guitar amps tone - that is what this is. Every note has clarity and pops out at you. Amazing.

One final note on sound - the two high gain channels (2+3) are really meant to be dialed in as a rhythm and lead channel - while I'm sure people will find other applications for them, it does really work well and you can dial they sound great in a band situation switching between the two for the intended purpose. Having 2 separate assignable EQ's is a brilliant touch. Also, the clean channel is excellent at sitting anywhere in the mix you need it. // 10
Reliability & Durability: It's a tube amp. It's gonna need tubes at some point - carry them with you. It's a Mesa Boogie - it's built about as well as a quantity production tube amp is going to be built. I've had my share of issues with Boogies, but all have been resolved fairly quickly. It's like working on an old car compared to a new one - it's gonna break once in a while, but service is easy and puts it back into a reliable state. Other than that I can't say much about this category - I really haven't had the amp that long. The one issue I was hearing about (FX Loop level issues on channel 1) was already taken care of before I bought the amp. // 9
Overall Impression: I play in a gigging original band. We are somewhere on the border of hard rock, rock influenced punk (think Dead Boys) and '80s crossover/thrash metal. This amp fits that bill great. I used to be in a southern rock band, and it would fit great there too. I plugged in an SG to this amp and it came to life on Channel 1 - I was in open chord heaven. I also plugged in a EBMM Majesty and of course that sounded great. The one thing I like about John Petrucci's stuff is you don't have to sound like him at all and it still sounds top notch - it takes on the personality you want it to. Very true of this amplifier.

For a long time I've been looking for "my" amp. I found it. I haven't had this thing a long time, but I've been noodling around on guitar for 28 years. Now I know what I'm going to be noodling on for hopefully the next 28 years. I'm that blown away about this amp. Of course, it's all subjective - go try one yourself. // 10