Features:

9

Sound:

9

Reliability & Durability:

10

Overall Impression:

9

Reviewer's score:

9.3

Superb

Users' score:

9

(

2 votes

)
Price paid: $ 450
Purchased from: Guitar Center Medford OR
Features — 9
The Orange CR120H is the biggest sibling of the Crush Pro family. It is based on the Rockerverb series, but is a solid state amp. It features two footswitchable channels with independent channel volume. The clean channel has a bass and treble control, that when boosted give a mid scoop tone, and when rolled off bring the mids up. The dirty channel features a three band eq and gain control. It also has 3 digital reverbs, that can be switched on and off with a footswitch, with a smooth reverb level control and a master volume that smoothly transitions from whisper quiet to stage friendly levels. It has a buffered effects loop on the back, plus two footswitch jacks and two 16 ohm speaker outs wired in parallel for one or two 16 ohm cabs or one 8 ohm. The amp is entirely analog, except for the reverb, and has pretty much the same features as it's tube brethren. I give it a 9 out of 10 because it would be nice if it could handle 4 ohm cabs.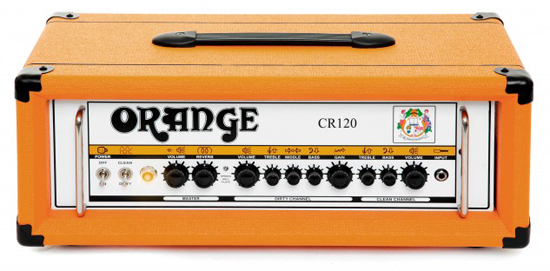 Sound — 9
Sound wise, it has that modern Orange flavor. Growling mids and plenty of gain on tap. The clean channel starts to break up when the channel volume is cranked, taking it from clean to light crunch, and the eq is very usable for what it is. It allows for dark and smooth to bright and sharp. The gain channel goes from crunch to rock in the first half of the gain knob, and the second half goes from a British high gain to straight up doom with a fuzzy edge. Key word is "fuzzy" not to be confused with "fizzy." The eq on the gain channel seems to affect the feel more than tone, but can get pleasantly bright without being harsh.

I play a Les Paul through it in various tunings and it has a loose chunky low end, but can easily be tightened up with my SD-1 putting it in modern metal territory. It is very versatile with its tone. While based on a Rockerverb, it is still SS and won't achieve a true tube tone, but it does respond to dynamics and the guitars volume. Running through a B52 LS412A at 16 ohms, it is plenty loud without maxing the volume. And it pushes some serious air. The reverb is beautiful and lush, and works wonders when using volume swells.

The Orange sound isn't for everyone, and this amp has it in spades. Because it is technically trying to emulate the Rockerverb, I should give it an 8 because it's not quite there, but because of how it sounds in a pure SS context I want to give it a 10. So I will split the difference at 9.
Reliability & Durability — 10
If I could afford an RV I would have got one, but this was within budget, and I am comfortable with any necessary maintenance on solid state amps. Being curious of it's internal quality, I opened the head to examine it. The head is plywood with a thick steel chassis. The tolex is very heavy duty. The boards inside are well designed and laid out, and the soldering is top notch and clean. I would have no problem trusting this as my only amp at a gig. And if it failed, it wild be easy to fix. No SMD parts inside at all.
Overall Impression — 9
I play various forms of metal, mostly black and death metal. A lot of punk and some rock. With a decent OD in front it covers all my bases and then some. I really love the reverb and the gain channel for super doom riffs. And I love the low end it puts out while having great nite definition and cutting mids. I compared the head to other Oranges and various SS amps like Fender and Randall, and found the tone for the price is hard to beat. Any negative thoughts about SS we're quickly made non existent once I tried this amp. If it was stolen, I would gladly replace it.