Features:

10

Sound:

10

Reliability & Durability:

10

Overall Impression:

10

Reviewer's score:

10

Gem

Users' score:

9

(

3 votes

)
Price paid: $ 1800
Purchased from: Private Party
Features — 10
It's a made in USA 50 watt two 12 (WGS British lead speakers) hand built, hand wired 6L6 driven full featured amp with reverb, and tremolo made by Mark Baier/Victoria amps. The circuit was designed after multiple vintage Fender amps that were chosen for their best features. The two tone appearance however is more vintage vintage Gibson amps from the late '50s. At 61lbs, it's no light weight. The controls are volume, bass, mids, treble, reverb, speed and intensity (for the tremolo), making it as versatile as any out there. It's simply a beautiful amp.
Sound — 10
This amp sounds great for rock, blues, and jazz. While I don't play country, I would bet it would sound great for that as well. I had a friend plug his Tele in and did some chicken picking it sounded great. The cleans are crystal clear (think blackface/early silver face Twin Reverb) but when it's driven, it really sings. My pedal board has very few pedals on it, but the amp takes them very well. I have two overdrive pedals, a Rockett Pedals Blue Note, it's great for that mild, early break up sound, and a Fulltone OCD for the more aggressive distortion. They both sound fantastic through this amp. The variety of tones you get get from this amp is amazing. It can be as bright as you want, or as dark. The bass is very strong, the mids can give you that Jimmy Page sound, and the treble can go from mild to piercing. This amp simply sounds fantastic, in any situation, from a solo performance, to a band mix. It will do a great job.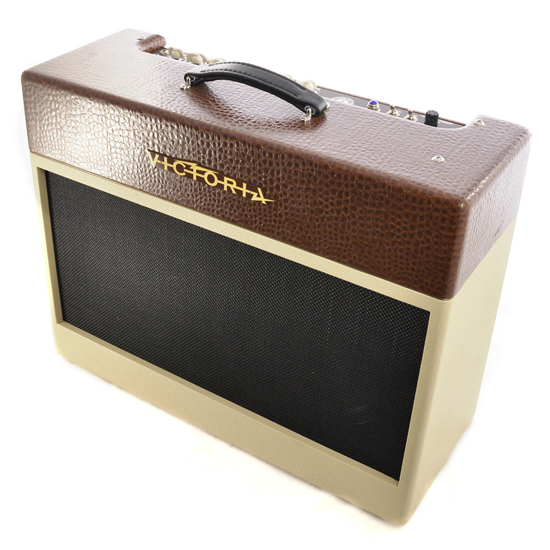 Reliability & Durability — 10
If you look at the construction of this amp, you will see the quality. As stated earlier, it's a hand built, hand wired amp. The tube sockets are heavy duty and mounted to the metal chassis with spring clamps for the power tubes, and metal cans for the preamp tubes. All components are mounted solid, and the solder joints are top notch. I personally have had problems with PC board amps in he past holding up over time with heavy use, both British, and USA made. You won't have that worry with this amp. The cabinet construction is solid wood, not particle board, with finger joints so it's also just as solid. The vinyl is thick and durable, and the handle is very well made. I do however use a backup amp, it's a Victoria 45410 ('59 Bassman style), but that's because I love that amp as well. I believe this amp will hold up to many years of playing, from mild, to heavy use. They carry a lifetime warranty, how many amps do that?
Overall Impression — 10
Overall impression, great! Some may be concerned with the price, but with this amp you really do get what you pay for. Again, for rock, blues and jazz it does all three equally well. I have 6 electrics I play through this amp, two Heritage guitars, an H150 (Les Paul) an H555 (semi-hollow body) a '69 Gibson ES-335, a Fender Strat, a G&L Legacy, and a Jazz Guitar. With the versatility of the tone controls, they all sound great through this amp. I actually purchased this amp to try, then resale, yea, that's not going to happen. It's definitely a keeper.