Ease of Use:

10

Sound:

9

Reliability & Durability:

10

Overall Impression:

9

Reviewer's score:

9.5

Superb

Users' score:

9.3

(

3 votes

)
Price paid: $ 79
Purchased from: Guitar Center Used
Ease of Use — 10
Here is how to use this pedal:

Insert a 9-volt battery or 9v AC Adapter.
Plug in your guitar. (It won't turn on unless a cable is inserted into the instrument jack.)
Plug the other side into your amp.
Step on it, and rock the rocker back and forth to achieve sweet wah goodness.
Sound — 9
I consider myself a wah pedal nut. I do not have many pedals on my pedalboard, but for the pedals that I do have, I make them count. So, in all of my searching, I stumbled upon this pedal and was blown away by the gear review videos. (There are few) So, I purchased this wah and was absolutely blown away. I have owned 3 other types of Dunlop Crybaby wahs and this one is by far the best sounding one to my ear. Its actual vocal "wah" sound is very pronounced and the low tuning of the wah eliminates any high-pitched squeals in the toe-down position. This wah is also super thick and meaty. It is one of the select few Dunlop wahs that are true-bypass as well. The only reason I don't give it a 10/10 in the sound department is because it's cleans are sub-par compared to the distortion sound. (Although, I don't use clean wah, so I don't care, still gets a nine.)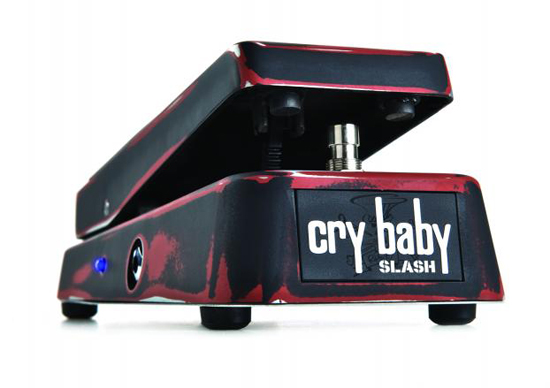 Reliability & Durability — 10
I've had this unit for three months, and have had no trouble with its durability. I can put my full weight on it, I have dropped it, and it still works perfectly fine and it is easily my most reliable piece of gear. The blue LED activation lights are housed comfortably inside the wah to keep them safe. This wah is strong and heavy. Dunlop in particular have been known to make very reliable wahs, and this one is no exception. The graphics (more on this later) make it look worn, so if it is scratched or scraped it will only add to the effect, instead of looking like crap.
Overall Impression — 9
I play rock 'n' roll of all types. I am not a huge metal fan, even though I sometimes dabble in playing metal. I play a lot of stuff that sounds like Guns N' Roses, so this pedal is the perfect fit for me. Besides the sound, there are a lot of other features on this pedal that I like. First, the graphics are absolutely wicked and look super cool. Then, the blue LED lights indicate when the wah is turned on, although this wah's signal is so thick it would be hard to not know when it was on. This pedal is far better than the previous Slash SW-95 wah. That wah had an absolutely terrible sounding distortion circuit in it, and it would break in a matter of months. Everyone for the most part uses some sort of distortion or overdrive anyway (my weapon of choice is the Fulltone Mosfet 2), so no wah/distortion combo is needed. If this pedal was stolen I would finish crying and then go to the store and buy another one immediately afterwards. The only reason I am not giving it a 10/10 is because the low-tuning of the wah might not work for some people, and maybe an adjustment knob on the side would make it appeal to a wider fan base.