Ease of Use:

9

Sound:

10

Reliability & Durability:

10

Overall Impression:

9

Reviewer's score:

9.5

Superb

Users' score:

9

(

3 votes

)
Price paid: € 400
Purchased from: Franc Music Shop
Ease of Use — 9
Firehawk is operated by Android or iOS device. App can be downloaded from Google Play Store and it's very easy to use. Firehawk connects with you phone via Bluetooth and has never break down for me. When devices are connected, you can stream music from your phone thru Firehawk an jam along with your favourite backing tracks. I thin it woul be easier to tweak tones on PC instead of phone but that isn't really a problem. You can store your presets on Line 6 account, share them with other users and save them on your Firehawk. Latest firmware can be downloaded from Line 6 web page.
Sound — 10
Firehawk FX is the most complete and best sounding processor I've ever had. I perform as one man band and I cover a lot of classic rock, pop, blues and metal styles. With Firehawk I can easily get any sound I imagine. Sound is awesome, especially HD amp models and effects. Wanted to buy HD500X but when I saw that Firehawk with new HD models offers all models from earlier series like POD XT and X3, my decision easily fall on Firehawk and for 60 bucks less than price of HD500X! I play Squier '50s Vibe Strat with Seymour Duncan Everything Axe Set. You can connect this unit straight into guitar amp but in my opinion, it works best direct into the PA.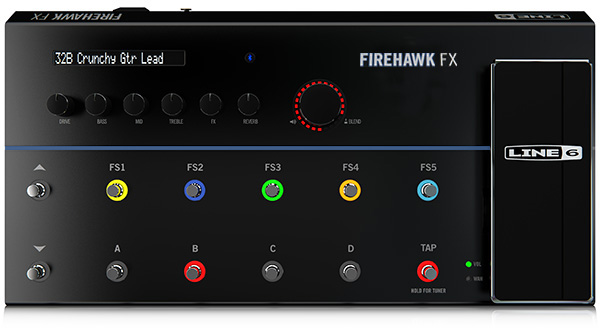 Reliability & Durability — 10
Pedal is built like a tank and I hope It will last for long time. Great job Line 6! I will use it as backup for my amp every time. Firexhawk has ON/OFF switch and great adapter. Metal construction is almost on 90% off processor. Switches are solid, like on every Line 6 unit. I owned many Line 6 products and never had problems. I recomend gig bag to pervent scratches or other damage. All inputs and outputs are good quality along with volume pedal. What else to say, great unit and good price for what you get!
Overall Impression — 9
Firehawk has ASIO driver and you can use it at home for practicing, recording and for live use you have balanced outs so you don't have to worry about sound quality. Big difference from Amplifi FX100 is that you have 5 footswitches for turning on/off effects in chain and in that case, Firehawk acts like a real pedalboard. I tried Boss GT100, Vox Tonelab, DigiTech RP1000, Zoom G5 and they sounded too digital to me, especially Boss. Line 6 products are digital too but they give me more lively guitar amp sound than others!