Ease of Use:

8

Sound:

8

Reliability & Durability:

9

Overall Impression:

8

Reviewer's score:

8.3

Superb

Users' score:

8

(

2 votes

)
Purchased from: Abandoned House
Ease of Use — 8
I do not find it hard to get a good flange sound out of the Morley Sapphire Flanger. The iconic "swirl" and "jet taking off" sounds are easily dialed in. I was able to find a few settings and a copy of the owner's manual for the pedal on a Morley website which was helpful as well. The manual is easy to understand while it explains the function of the controls and power requirements. Looking around online it appears that this is somewhat of a rare pedal. As mentioned earlier in this review, it was only produced for three short years, and I have not found many others in stores or online.  Stay sick!
Sound — 8
Hello to all my fellow guitar enthusiast and gear heads out there. Thanks for taking time to read my Morley Sapphire Flanger review. This effect pedal was produced from 1995 to 1998 along with five other gem themed pedals that made up Morley's Jewel Box Effects series: Diamond Distortion, Crystal Chorus, Emerald Echo, "Echo-Plus" Echo Chorus Vibrato, Just Distortion Box. Believe it or not, I found my pedal in near mint condition while painting a vacant house for my friend working in real estate!

Like most effects, when played in the right setting and used tastefully, this pedal can add nice flavor to your sound. The Morley Sapphire Flanger comes with three control knobs: Speed, Travel & Regen (regeneration). Speed sets the speed of flange effect. Set slow for a long swirl effect, set fast for a vibrato effect. The LED blinks in time with the speed set. Travel adjusts the sweep of harmonic overtones. And REGEN mixes flange and dry signals. The pedal produces a variety of flange styles described as subtle, standard, detune, vibrato, and alien ray gun. I like the detune flanger setting best and great for adding a touch of horror punk eeriness, fitting for The Cramps or Misfits. Play punk rock, I typically do not use effects other than my amplifier's onboard high gain/overdrive, so this pedal sees a lot of idle time sitting on the shelf. However, if your style is more psychedelic or stoner rock, then this pedal may be for you.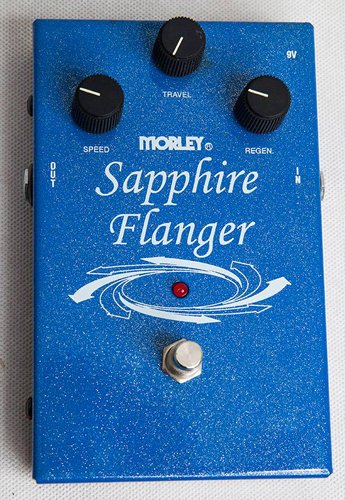 I have used this flanger with my Fender Mustang I V2, and a Peavey 5150 4x12 straight cabinet with a Crate Excalibur head. The iconic swirl effect associated with the flanger is more pronounced when played through two or more speakers. Also, this is not a noisy pedal when activated, but if used with a weak battery, expect considerable signal loss. Fortunately, Morley equipped the Sapphire Flanger with an input for a power adapter.

Reliability & Durability — 9
There is no doubt in my mind that this pedal can withstand live playing gig after gig. The chassis is solid, and Morley purposely designed the signal input, output, and power adapter input connections to be a snug fit, and they have remained snug over the years. Likewise, the three control knobs on this unit have remained in the same working condition as day one when I first found it, and its sparkle blue paint job continues to look immaculate. In all fairness, this pedal is only used a few times a year at best, and I am not particularly brutal on my gear by any means. If I were to ever use this pedal in a live performance I would be willing to take my chances and do so without a backup. As I mentioned earlier, I usually do not use any effects other than my amp's onboard overdrive, so if the pedal suddenly stopped working for some reason it would not be missed.

Overall Impression — 8
I have been playing guitar since 1994 and overall, I really do not use effect pedals all that much. Come to think of it, I have only owned two other effect pedals. One was an authentic Thomas Organ Co. Wah from the 1970's that I bought at a garage sale for $5 and sold a few years later for $90. The other was a 1990's Boss DS1 Distortion pedal, and both pedals were only used every once in a while. I am not a big fan of effect pedals in part due to their dependence on batteries, and I have only cared enough to go to a music store and buy a power adapter once, which was for this Morley. With that said, I think it is safe to say that I can live without effect pedals in my arsenal. On the other hand, I think tremolo, vibrato, and slap-back echo (delay) are cool effects. If I were to get another effect pedal it would likely be one of those.