Ease of Use:

10

Sound:

10

Reliability & Durability:

9

Overall Impression:

9

Reviewer's score:

9.5

Superb

Users' score:

9.3

(

4 votes

)
Purchased from: Amazon
Ease of Use — 10
The pedal comes with a handy leaflet that explains all the controls and settings along with the standard set up instructions and specifications, so it is very easy to get started right away. The instructions also explain the loop function and how to use it in good detail, so this secondary function is easy to get hold of and working from the get go. Pretty much any setting will give you a great sound, and there is plenty of room to mess around and find your perfect setting. Very easy to set up, and great to explore.
Sound — 10
Primarily, this pedal functions as a delay effect pedal. The range of sounds achievable through use of this pedal is incredible. I am using this pedal with a Behringer VT30FX Tube Amplifier, often on the clean channel, and sometimes in combination with a ZVex Fuzz Factory, and the pedal sounds great with both of these tones and more. The pedal is virtually noiseless, and produces a very clean signal.

In terms of range of sounds, the delay types include a very crisp tape style delay which decays on the high end as repeats progress; a digital delay - as simple as it sounds; an analog style delay that has a warm, distorted characteristic to it; ping pong and pan delays that work best in stereo but that also work in mono by fading in and out; a modulated delay; and a reverse delay. Each of these can be altered with time, mix, and repeat controls. With the time control, the time between each repeat can be changed, the mix changes the volume of the repeats, and the repeat control sets how many times the signal is repeated before decaying completely. These controls can be utilised in many ways to create an infinite delay, a standard tape delay sound, or even a full output signal of reversed sound by turning the mix control to full whilst on the reverse setting.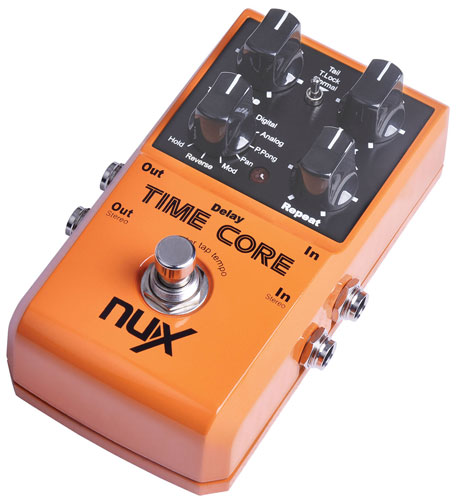 The pedal also allows for some wacky noises that wouldn't be out of place at the start of a Radiohead track. By taking the repeat control up high, and then playing a single note/chord and letting it ring, some crazy sounds can be produced by simply turning the time control up or down. The pedal also has a unique "tail" function, that can tail the delay sound after the pedal is turned off mid-delay. This is useful when trying to apply the effect to one phrase, and not the next, without cutting the delay sound off dead. Finally, the pedal comes with a built in loop function that allows around 40 seconds of loop time, with infinite overdubbing. The loop output is identical to the input, and sounds very sophisticated for how minimal the function is.

Overall, this versatile pedal can produce a very wide range of great sounding delays, some crazier sounds, and has a great sounding loop function. Fantastic sound.

Reliability & Durability — 9
The pedal is built from a very sturdy metal casing and can definitely take a beating. All of the controls are secure dials that stay in place once set, and that show no signs of falling off, which is always a plus. The switch is stable, and easy to activate, and the only downside that I can see is the central toggle switch. The switch that changes between "normal," "tail," and "tone lock," does the job but is a bit fiddly and doesn't feel that it fully clicks into place sometimes, but this, of course, is only a minor fault.

Overall Impression — 9
This pedal very much impressed me and I would without a doubt buy it again should I need to. All I had for reference was the built in delay on my amp, and this far surpassed the range and quality that was supplied by the amp. I don't think I could have asked for much more from this pedal. The tone lock function is probably the least easy to grasp part of this pedal. The function locks the settings that you have, so if the controls are altered at all, then the settings that you wanted are still exactly how you left them. However, I haven't yet worked out if you can save settings, so it is not of great use to me right now. Overall the pedal is reliable, versatile, and just straight up impressive.