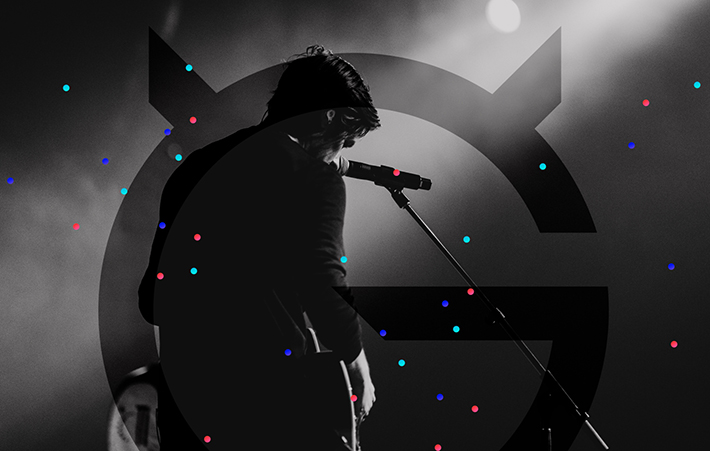 Welcome to UG Shots!
Ultimate Guitar is not only about getting tabs & chords anymore. It's about playing your instrument, as well as recording, performing, sharing, getting likes, comments, and shares.
Shots are an online version of an open mic. It is a great opportunity to perform your favorite song to millions of music fans around the globe.
If you don't feel ready to perform just yet, you can always use shots to track your learning progress, meet other like-minded beginner musicians, take playing tips from the experienced members of the community, and discover new awesome songs.
No matter what your end goal is, shots are here for you to have fun, play your favorite music, and find new friends.
Here are a few tips that might help you get the most out of the Shots feature:
How to get new audience?
If your goal is to perform and you want to be seen by hundreds of thousands of music fans around the world, follow these three simple steps:
Record a new Shot,
Publish it with #featureme in the description box,
Wait till the new featured shots playlist gets published on the main page of the app. For more info click here.
⭐ Click here to get a list of recommendations that may help you get featured.
Here are a few examples of featured shots that got a lot of love from the community:
How to track your learning progress?
Nobody is born ready to perform. Some are camera shy, and some need more time to learn a new song to make it sound just the way they want to.
We want to help you learn and upgrade your skills as efficiently as possible, so we introduced a feature called Private shots.
If you're not sure you can handle performing in front of the whole world just yet, try recording yourself play and switch the Public mode off before uploading the shot.
This way nobody will see your work in progress, yet you'll have a convenient tool to track the learning process and get less shy about recording yourself perform.
We're sure that you're gonna be stage-ready in no time 🤘🏽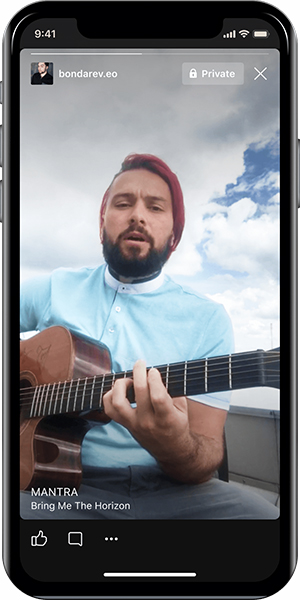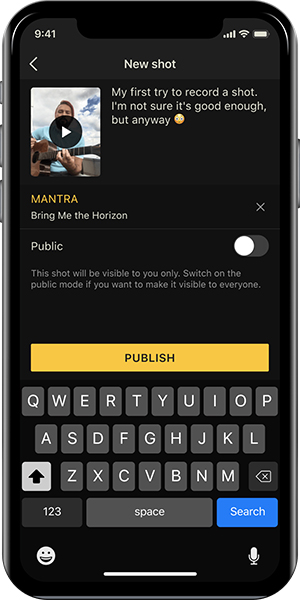 How to discover new music?
If you have no inspiration you can check out other musicians in our Explore playlist. We bet you'll hear a song that you'd love to learn and pick up your guitar in no time.
How to record a great shot?
Choose the right song
When it comes to choosing the right song, there are no limitations. If you want to play something popular you can choose one of the 1,5K tabs from our catalog. If you are more of an indie/underground kid, you can leave a tab request for the Guitar Team at UG forum thread or learn the song by ear. If you're a singer-songwriter, you can always share your original music or even bust an improvisation!
Check your equipment and surroundings
Even the best performance can get ruined by a poor sound, bad quality picture, or unplanned foreign noises.
Make sure that:
You and your instrument fit in the frame,
The lighting is good,
Your device provides good quality of video and sound,
Your content follows the site rules.
Here are a few examples of high-quality shots:

Share your content with the UG community
Before publishing your shot don't forget to attach a tab and add a description. If you add #featureme to the description box, your shot may be selected among one of the 20 weekly featured shots (read more here).
Tips that may help you get featured
Video/Picture quality
Both your face and your instrument should be in the frame.
The only exception is if you're playing a solo on electric guitar. In this case, we don't mind if there are only guitar and your hands in the frame.
Stabilize your device/camera well, so there is no shaking in the video.
Make sure the image quality is good enough (no blurring, grain, etc.).
Make sure the lighting is good. Avoid recording videos in the dark if you don't have a camera that can handle that. A large light glare in the shot can also be a problem.
There should be no logos or watermarks on your video (including TikTok, InShot, Acapella, etc.)
Try to avoid any masks and crazy video filters.
Both vertical and horizontal videos should fit the frame.
Make sure that your shot doesn't start with a fade-in effect.
Sound quality
Make sure that you sing and/or play your instrument loud enough. It's also important to level the loudness of your singing and playing.
There should be no extraneous noises, cracks, or sound failures.
There should be no sound jumps during recording. The sound should be stable throughout the whole video
Content/Other
Please avoid pauses and speeches in the #featureme shots. It's better to start singing/playing right away. This approach will help you to catch the attention of your audience.
#Featureme shots should not be shorter than 30 seconds.
Make sure there are no unwanted objects on the background (such as dirty laundry, etc. :))
Don't forget to put your shirt on if you shoot a video for #featureme :)
Featured shots are not only about your playing/singing skills. It's also about artistry and performing. Additional observation: people usually like more upbeat/energetic songs. But if you choose to sing a sad song, do it with great emotion, so your audience can catch "the feels."
How to protect yourself from unwanted attention in shots?
The UG community is growing fast. This means that sometimes you may encounter a user that you don't like. We care about your safety and wellbeing, so we implemented an option to block and report other users. This will help you avoid unwanted interactions on Ultimate Guitar.
Here is how you can block or report a user:
Go to the user's profile and tap the three dots menu on the upper right corner of the screen. Then choose "Block".
If the user contacted you via personal messages you can block or report them right on the spot. Just tap the three dots menu on the upper right corner of the chat. Then choose "Block" or "Report".
If you see an unwanted user somewhere in the comment section, tap the "More" button under the comment and choose "Block" or "Report comment".
If you choose the "Block option" it will prevent the user from contacting you or seeing your content. To unblock a user just go to Profile settings > Blocked users. You'll see a list of accounts you've blocked and the "Unblock" buttons next to them.
If you choose the "Report" option it will inform our moderators about suspicious activity from the user. Moderators will investigate the case further and if they find any serious violations they will issue a warning or ban the user from Ultimate Guitar.